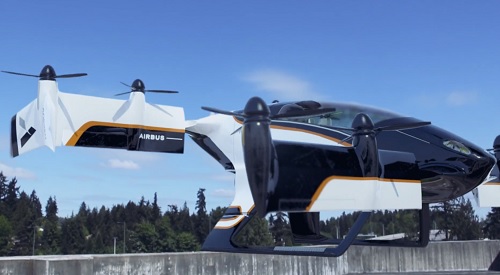 An artist's rendition of the Vahana prototype flying car. Source: Airbus
The self-piloted flying car from Airbus, called Vahana, will use the landing zone assessment technology from Pittsburgh start-up Near Earth Autonomy.
Vahana is a project to design and build a self-piloted vertical take-off and landing (VTOL) electric vehicle. In June, Near Earth Autonomy and Vahana completed a series of acceptance flights with the goal of flying a full-size prototype before the end of this year.
Near Earth says its landing technology will be a core component of the overall sense-and-avoid system that Vahana will use in its full-scale version.
The goal is to open up urban airways by developing a passenger aircraft that will serve as a flying taxi. Designers envision users hailing the aircraft via an app, after which it would deliver the passenger to a pre-determined destination.
The sensor system developed by Near Earth Autonomy creates a 3D representation of the landing environment using laser scanning and inertial measurement. During descent, this representation is used to assess the landing site through an onboard computer. Once the assessment deems the area safe and away from obstructions or hazards, it begins the landing process. If it is deemed unsafe, the vehicle provides alternative locations for a safe touchdown.