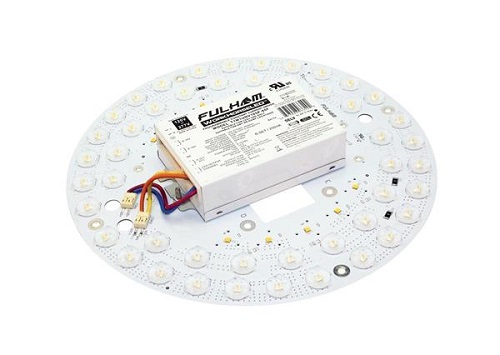 The universal voltage LED canopy retrofit kit. Source: FulhamFulham Co. Inc. has introduced a new universal voltage light emitting diode (LED) canopy retrofit kit to illuminate locations such as service stations, parking garages, entryways, walkways and other areas where LEDs would be a cost-effective alternative to traditional lighting.
The Hawthorne, Calif.-based company says the kit can be used for installations requiring 120 V to 227 V and is suitable for both damp and dry locations. The LEDs feature integrated thermal management and have been tested to operate at temperatures ranging from -4° F to 113° F.
The retrofit kits are designed to offer the same aesthetics as the original fixtures but with a lower cost to retrofit resulting in low-power consumption and longer fixture performance, Fulham says.
Other features include:
Plug-and-play connection between the LED light source and the LED driver.
Can be mounted directly to the luminaire pan or reflector.
Has a programmable driver with up to 8,700 system lumens max.
Dimming from 0 V to 10 V and is compatible with most sensors.
Has optical lens for direct light levels at 60 to 80 degrees.
Installation takes about 10 minutes.