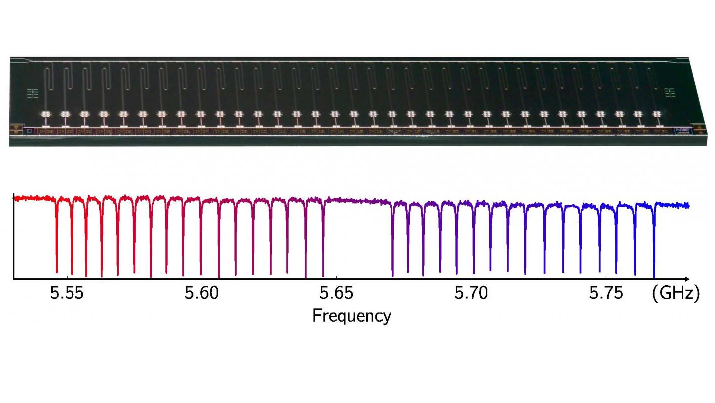 SQUID multiplexer chip, along with its microwave response. Source: J.A.B. Mates/University of Colorado, Boulder
A new sensor array-based instrument has been developed by researchers at the University of Colorado, Boulder, and the National Institute of Standards and Technology (NIST). The device collects data from many more detectors than was previously possible, providing ultra-low noise detection of small amounts of energy. It is expected to have applications in a wide variety of fields.
In the past, array size was limited by the bandwidth available for combining signals into multiple output channels. The new instrument combines the output of 128 superconducting sensors into a single channel. Very cold superconducting microwave circuitry was employed to overcome the bandwidth barrier, along with superconducting quantum interference device amplifiers (SQUIDs) that could boost the intensity of small signals.
The SQUIDs regulate microwave resonators, each tuned to a different frequency and combined to a common microwave feed line. This enables all sensors to be simultaneously monitored. "It's as if one were trying to listen to hundreds of radio stations at one time, through one radio receiver," explains Ben Mates of the University of Colorado, lead author of the work.
The instrument can detect signals over a wide range of frequencies, from short-wavelength gamma rays or X-rays to long-wavelength microwaves. Gamma ray detection is used in nuclear materials accounting, particularly for tracking plutonium isotopes in spent nuclear fuels. Current spectrometry technology used for this purpose is either costly and time consuming, or else too imprecise to catch small discrepancies in plutonium amounts (only 8-10 kilograms are needed to build a nuclear bomb).
The field of astronomy may hold additional applications for the new device, such as improving the study of cosmic microwave background radiation and the search for polarization fluctuations that are a signature for the birth of the universe.
The researchers are now working on increasing array size—to a thousand sensors or more—and thereby boosting the capacity of the instrument. Their goal is to develop a spectrometer capable of simultaneously collecting and precisely measuring high energy X-rays from materials under study at the Department of Energy's SLAC National Accelerator Lab at Stanford. Such X-rays are used in ultrashort-timescale studies aimed at better understanding the properties of matter.