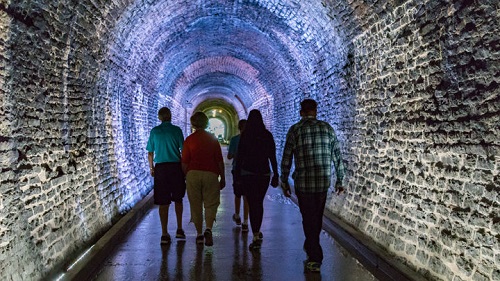 The illuminated Brockville Tunnel. Source: Philips Lighting The Brockville Railway Tunnel is an iconic landmark in the Thousand Islands region in Canada but has remained dark to tourists.
That is changing with Philips Lighting announcing that it will use more than 700 Color Kinetics ColorGraze MX4 Powercore light emitting diode (LED) fixtures to turn the mostly unused railway tunnel into a lighted walkway.
The lighting inside the tunnel will run a lightshow 365 days a year for residents and tourists as well as provide custom lightshows that can be requested for events held at the waterfront. Philips says the tunnel is set to become a hub for hosting community events and festivals year-round.
"The Brockville Tunnel is a remarkable historical landmark and we had a vision to transform it into a true international attraction," says David LeSueur, city of Brockville councilor and Brockville Railway Tunnel committee chair. "With the Philips' architectural LED lighting, we have created something wonderful for the community and visitors."
The tunnel was originally constructed in the 1850s located underneath the downtown area of Brockville, Ontario. The tunnel acts as a path from the city's waterfront to the Brock Trail recreational pathway.
The lighting fixtures contain more than 2,800 individually controllable nodes, each one capable of providing a different color of light so that different lighting arrangements can be used. The fixtures were chosen for the inside of the railway to show off the pre-Confederate tunnel's architectural and geological components.