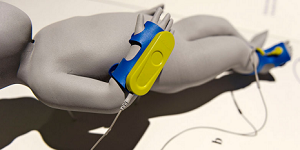 Special wristbands allow the hydration of a small child to be monitored without interruption. Source: Florian Bachmann / ETH Zurich
After pneumonia, diarrhea and associated dehydration is the most frequent cause of death among young children in developing areas. In 2013, 1.3 million people died of dehydration, mostly children in regions where poor hygiene and contaminated water make such infections commonplace.
A mobile device that uses electrical impedance to measure changes in hydration may offer a solution. The AMBICA (Accurate Model for Bio-Composition Analysis) system developed by Swiss researchers uses hand and foot cuffs with embedded electrodes connected by a cable to gauge dehydration severity in young patients. Resistance is determined after a weak electrical current is injected through the electrodes into the body.
The system can be used to monitor patients in real-time, without the need for medical professionals. The bioelectrical impedance analysis can be used to draw conclusions about the concentration of water in the body. A red or green LED array on the wrist indicates whether hydration is increasing or decreasing and an alarm sounds when the situation is critical.
Researchers from Zurich University of the Arts and ETH Zurich (Swiss Federal Institute of Technology) designed AMBICA for conditions in developing countries. The cuffs are made of a light EVA plastic used in orthopedic applications, which could potentially be finished locally. The contacts of the electrodes need to be replaced after each use for hygienic reasons, but the cable and cuffs are reusable. The system, still in the prototype stage, could be mass-produced for less than 100 Swiss francs ($104 USD).
An internet of things platform that would allow the collected health data to be evaluated on a broad scale is under development. The first field study is planned for December, when AMBICA will be tested during the hot summer season in the Western Cape province of South Africa.