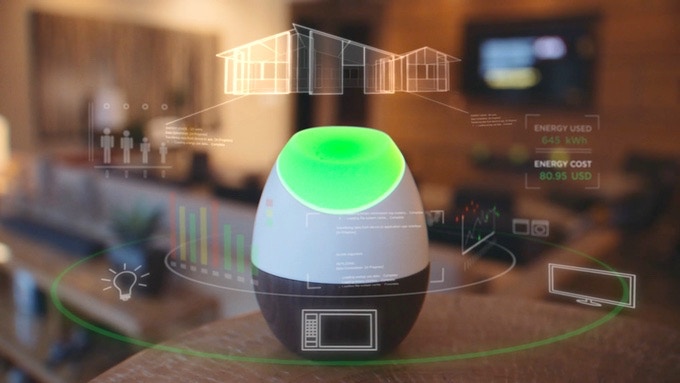 The Glow Smart Energy Tracker tells users how to lower their electricity bill. Source: Glow
Electric bills can be frustrating and expensive. All too often people are using more energy than they need to, which drives up bills and is bad for the environment. That's where Glow comes in. Glow is an ambient home energy tracker that can help lower your environmental impact and energy bill by providing real-time energy use feedback, spending goals and alerts.
Glow has magneto-resistive sensing technology that wirelessly measures a home's electricity usage. Glow sends the information to the wireless in-home display unit. This unit changes colors so users can see their energy use in real time.
Forty percent of the electricity used in most homes is wasted through things like empty rooms, air leaks, inefficient appliances, thermostat oversetting and more. This can add up to $500 a year on your electricity bill. Users can tell Glow how much they want to spend each month on energy, and Glow will help them stay on track through alerts and color changes on the display unit.
There are two devices Glow uses to track energy usage. There is the self-contained sensor that attaches to the electrical meter box. The sensor "senses" the amount of electricity that is flowing into the home. There is no need to open the electrical box and have to attach anything complicated. Everything is done wirelessly using magneto-resistive sensing. The sensor sends data wirelessly to the Glow in the home unit where it is then processed and sent to Glow's backend cloud service for deeper analysis.
Glow comes with an app that tells the users where their energy is being used. You can check from your phone if you've left electronics on, like an air conditioner. The app can also alert users to any abnormal usage so they can fix it right away. It also can estimate the energy cost of the next electric bill based on the recent usage. Glow can also integrate with car chargers and other smart home technologies.
Glow's in-home unit has many features. The unit has a sensor that attaches to the utility meter box quickly and easily. Setting up the unit is just plugging it in and waiting 10 minutes for Glow to calibrate. It has the magneto-resistive technology for wireless sensing to measure the power usage. The smart energy indicator has an LED light that changes color based on energy use and dims automatically at night. Users can pause Glow for two hours or completely by pressing the snooze button. Glow uses less energy than a single LED bulb.
Glow has launched on Kickstarter. As of today, it has $10,203 of its $75,000 campaign goal pledged with 62 backers and 35 days left in the launch. To learn more about this product or to purchase one, visit Kickstarter.