The fuel cell range extender system developed by Vancouver, British Columbia, Canada-based Loop Energy is fully functional and operating in a heavy-duty terminal tractor (or yard truck) with partner China National Heavy-Duty Truck Company.
Offering extended range, rapid refueling and zero tailpipe emissions, the heavy-duty vehicle addresses the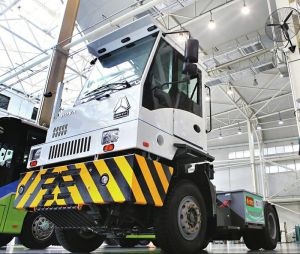 Loop Energy hydrogen fuel cell range-extended electric yard truck. Source: Loop Energylimitations of pure battery-electric trucks for short- and regional-haul freight markets while providing an economically-viable replacement for polluting diesel engines.
The company says the vehicle is the first hydrogen powered yard truck with potential to substantially reduce emissions from port operations while achieving cost targets demanded by trucking operators, without subsidies.
Designed around Loop Energy's patented eFlow® technology to optimize air flow inside the fuel cell, the super-efficient and powerful range extender is combined with an electric battery system to enhance vehicle performance in various operating environments.
In a heavy-duty truck, Loop's hydrogen fuel cell range extender system acts as an on-board power generator to charge batteries that support peak power demands and capture energy derived through regenerative braking. This hybrid solution reduces the size and weight of a pure battery-electric truck to provide extended range, super high-torque for heavy loads, quick fill-ups and emission-free freight movement.
The fuel cell design can be modified for a broad array of applications, including heavy-duty buses, container trucks, vocational vehicles and automobiles.