Mouser Electronics, Inc., is now stocking the MAXQ1061 DeepCover® cryptographic controller from Maxim Integrated. Designed to protect the confidentiality, authenticity and integrity of software IP, communication and revenue models, the MAXQ1061 is a turnkey security solution. The controller allows engineers to add an additional layer of protection to Industrial Internet of Things (IIOT), smart metering, network appliances and other connected, embedded systems.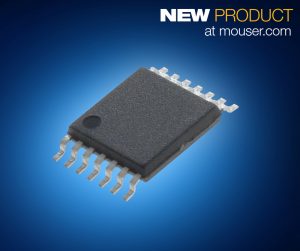 The MAXQ1061 DeepCover controller is now being stocked at Mouser Electronics
The Maxim MAXQ1061 cryptographic controller incorporates DeepCover embedded security technology. This applies multiple layers of advanced physical security to provide the most protected key storage possible. The device has an embedded cryptographic toolbox that provides key generation and storage by offering a high level of abstraction. This includes TLS/DTLS key negotiation, ECDSA-based TLS/DTLS authentication, digital signature generation and verification, SSL/TLS/DTLS packet encryption and MAC algorithms. The device also serves as a secure bootloader for an external microcontroller.
The MAX1061 embeds 32 Kbytes of user-programmable secure EEEPROM, managed through a flexible file system that enabled custom security policy enforcement. This helps in storing certificates, public keys, private and secret keys and arbitrary user data.
The device also has separate hardware AES engine over SPI. This allows it to function as a coprocessor for stream encryption. The physical environment and logical protections built into the MAXQ1061 to allow the device to meet the stringent requirements of FIPS and Common Criteria EAL4+ certifications. For development, the device is supported by an evaluation kit also available from Mouser.
To learn more about the new Maxim's MAXA1061 DeepCover Cryptographic Controller and evaluation kit, visit the Mouser site.