Cloud PLM software company, Propel, has just released its annual survey of global manufacturing companies. The results highlight the importance of cloud-based technology, showing that the use of cloud apps is now substantially higher in 2017. According to survey respondents, the cloud is paying off strategically with higher productivity and increased business agility.

With modern cloud solutions helping drive closer customer engagement, manufacturing companies are seeing the highest increase in adoption in their Engineering and Operations departments.
The 2017 Propel Manufacturing Cloud Survey was based on over 100 respondents and conducted at the recent Salesforce Manufacturing Summit. The results proved a major shift in enterprise cloud adoption, compared to last year's study.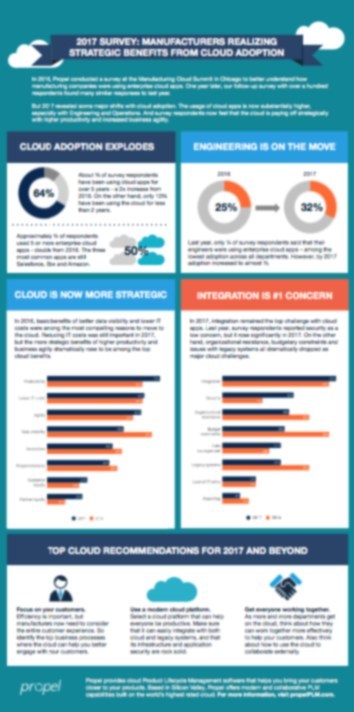 Source: Propel
Some of the key points, which can be found in the infographic, include:
Cloud adoption is booming

About two-thirds of survey respondents have been using cloud apps for over 5 years, double the amount recorded in 2016

Engineering is on the rise

Almost one-third of survey respondents said that their engineers were using enterprise cloud apps, the highest yearly increase among all departments. Last year, only 25 percent said that their engineers were using enterprise cloud apps

Cloud benefits are more strategic

Reducing IT costs is still important in 2017, but the more strategic benefits of higher productivity (72 percent) and business agility (60 percent) rose to be among the top cloud benefits in 2017

Integration is the top cloud concern

In 2017, integration remained the top challenge with cloud apps, but this was a much lower concern last year
"Even as recently as five years ago, manufacturing companies were still hesitant about adopting cloud technologies. Fast forward to 2017, and manufacturers see SaaS as a core component of their digital transformation and customer engagement strategy," said Miguel Tam, VP Marketing at Propel. "Our latest survey shows that manufacturing companies are now embracing cloud technologies like Propel to better engage customers throughout the product lifecycle and achieve significant business benefits."