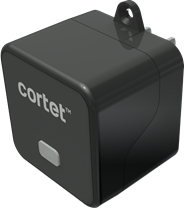 The Z10 Range Extender. Image credit: Cortet by CEL
Cortet by CEL has introduced a new Zigbee range extender for use in various wireless sensor networks (WSN), machine-to-machine (M2M) and with the Internet of Things (IoT).
The Z10 Range Extender is a reliable, secure and easy-to-install way to extend the range and/or capacity of a Zigbee network within large facilities or facilities with poor RF environments, Cortet says. The built-in software makes it easy to set up the extender and commission the device into a Zigbee network.
The device has an input voltage of 100-240 VAC at 50/60 MHz, maximum current drain of 0.07 amps, operating temperature of negative 20 degrees to 40 degrees Celsius and AC input IEC Typ A, ungrounded and non-polarized.
The Z10 requires a Zigbee coordinator such as the Cortet E100 Gateway. It is REACH and ROHS certified and has been tested to work with a wide range of industrial lighting controllers, luminaires, lamps and other accessories from companies such as Leviton, Illumra and Magnitude.