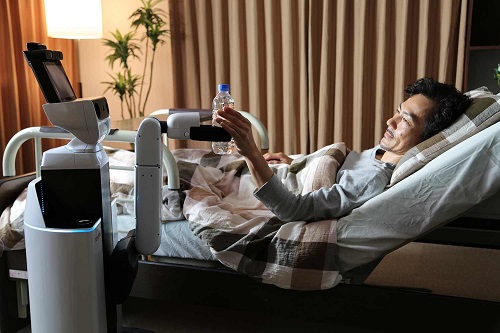 This is a Toyota Human Support Robot that researchers are working on to provide better human-robot interaction. Image credit: Toyota
Scientists from the University of California, San Diego, are for the first time taking part in the international RoboCup @ Home competition.
During the past three months, the team has been testing algorithms to train a Toyota Human Support Robot (HSR) to complete two tasks: Picking up and putting away groceries; and helping someone to carry groceries from their car to their home.
The goal of the RoboCup @ Home competition is to test a robot's ability to perform everyday tasks, help people around the house and establish robot-human communication and interaction. The team is testing its algorithms on the ability to control robotic arms to manipulate objects and use a wide range of sensors for voice interaction and image recognition.
UCSD will compete against 10 teams in their category, including the University of Texas at Austin and Northeastern University.
UCSD's bot is lightweight and equipped with an articulated arm and flexible hand as well as a telescoping body. It can be trained to fetch and carry objects, recognize and interact with people as well as household tasks.
The RoboCup @ Home competition takes place this weekend in Nagoya, Japan.