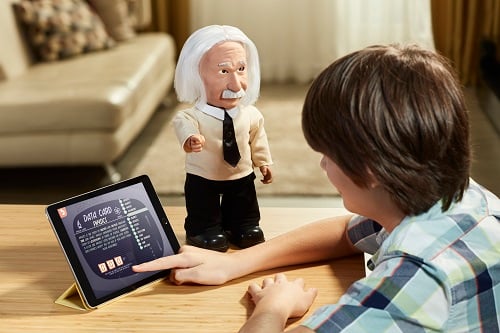 Professor Einstein features more than 50 facial expressions and gestures. Source: Hanson Robotics Hanson Robotics made a splash a while ago with its Sophia robot -- a talking robot that was sophisticated enough to tell jokes and have a conversation complete with a wide number of facial expressions. It made the rounds on morning and late night talk shows as a possible future of robotics in our lives.
Now, Hanson Robotics is introducing another type of robot, one that is for learning inside the home. Professor Einstein is a commercial robot built by toy manufacturers to be affordable with face tracking, audio sensing, natural language processing and features some of the same facial expressions as some of Hanson's other robots.
While Professor E can answer questions that other home personal voice assistants can—such as the weather or other search parameters—the robot is designed more as a teaching assistant to help with science questions and playing brain games with children.
"When online, Professor Einstein can answer 'what is' and 'who is' questions by accessing the cloud," Andy Rifkin, CTO of Hanson Robotics told Electronics360. "However, he's not designed as a personal assistant. Professor Einstein is a unique, first-of-its-kind edutainment robot that specializes in teaching science and planning brain games with children ages 8-13+."
Professor Einstein features more than 50 facial expressions and gestures, plays brain games to challenge users, answer science questions ("Hey Professor, what is a quark?"), responds to voice commands, connects to WiFi, has three hours of interaction per battery charge and works with an app on Android or iOS operating systems.
Rifkin says the company is currently working on a coding app that will enable people to program the robot to further innovate science, technology, electronics, art and math (STEAM) skills. Hanson further plans on introducing new products and new characters as well as expanding Professor Einstein with additional content and software upgrades such as science trivia games and lessons that are regularly added to the app, he says.
To learn more about the robot, visit: https://professoreinstein.com