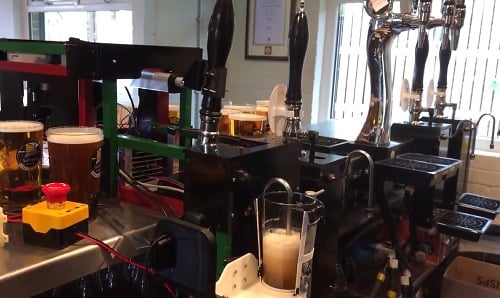 While not perfect just yet, this beer-pouring robot comes pretty close to the perfect pint. Source: Quality Bearings Online Nothing beats pouring a cold frosty beer on a hot day (or even a cold day). What if you had a robot to do it for you and not just pour the beer but make it right every single time.
That's what the School of Mechanical Engineering at the University of Leeds is trying to do with its pint-pulling robot. The machine includes a robotic arm and an interactive screen that is attached to a small growler. With the push of a button, the arm begins to pour the beer filling it slowly to minimize foam.
While it isn't perfect just yet, it is darn near close as you can see in the video.
The Perfect Pint Project was commissioned by Quality Bearings Online, a maker of bearings for a variety of industries including the beverage market, and using beer from Saltaire Brewery in the United Kingdom.
The project began earlier this year with the goal to test the robot against master beer pourers to see if a machine could do as good of a job as a human. The robot was created using 3-D printed fixtures and the touch screen allows for customers to access the machine without any input from a bartender or other worker.
Are bartenders' days numbered? Not yet, but this project definitely shows that robotic automation may soon be coming to a pub near you.