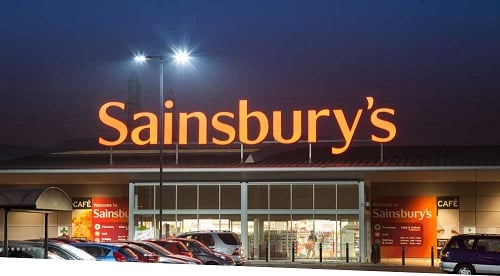 Sainsbury's move to LED lighting will reduce greenhouse gas emissions by 3.4 percent annually. Image credit: Current
GE's light emitting diode (LED) unit, Current, has announced it will be supplying U.K. grocery Sainsbury with LED fixtures to upgrade more than 450 stores across the country.
The move will require 250,000 LED fixtures and will cut Sainsbury's lighting energy consumption by 58 percent, while reducing greenhouse gas emissions by 3.4 percent annually.
Paul Crewe, the head of sustainability, energy, engineering and environment at Sainsbury, says the supermarket chain is looking to lower its carbon emissions and switching to LED lighting is a big step toward achieving its sustainability goals.
"We've almost halved the carbon emissions of our stores since 2005, and in the last 12 months reduced our electricity use by 11.6 percent despite growing our operation by 54.2 percent," Crewe says. "This step will enable us to make significant reductions in carbon emissions. Our customers expect us to do the right thing on their behalf, and they can be reassured that, day or night, when they visit a Sainsbury's supermarket, we've made a significant in-road into creating a greener supermarket for them."
The project will work toward Sainsbury's goal to reduce absolute carbon emissions by 30 percent compared to 2005 baseline levels. This plan has prompted the supermarket chain to invest in renewable energy initiatives such as LED retrofits, solar panels, biomass boilers and ground source heat pumps.
The retrofit will be provided by Current who will also supply the lighting design, product supply, installation and project management services. The project is scheduled to be completed by 2020.