The entire line of 2017 Super 12 Featured Products from Vishay (Malvern, PA) will be distributed by New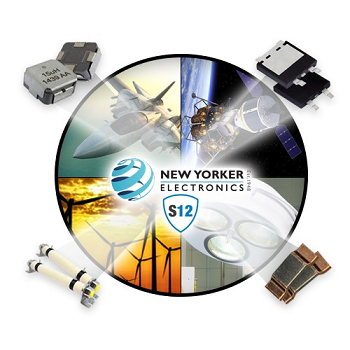 Yorker Electronics (Northvale, NJ). Each year, Vishay showcases a cross-section of the industry-leader's broad portfolio in semiconductors and passive components. The Vishay Super 12 recognizes a dozen key semiconductor and passive components featuring improved technologies that can enhance the performance of end products and systems.
New Yorker Electronics is a franchise distributor for Vishay and carries its full line of full line of discrete semiconductors — diodes, metal-oxide-semiconductor field-effect transistors (MOSFETs) and infrared optoelectronics — and passive electronic components — resistors, inductors and capacitors.
This year's Super 12 Featured Products include:
· SQJQ480E TrenchFET® Gen IV MOSFET - an 80 volt, 3 milliohm N-Channel MOSFET in a PowerPAK® 8x8L Package
· T59 Series vPolyTanTM Polymer Capacitors - low equivalent series resistance, high-energy polymer capacitors in MAP Package
· VCNL4035X01 Optical Sensor - an integrated proximity and ambient light sensor for gesture applications
· WSLF2512 - a 6-watt Power Metal Strip® resistor with low resistance and a low temperature coefficient of resistance (TCR)
· VTVS5V0ASMF to VTVS63GSMF - 400-watt transient voltage suppressor (TVS) diodes in SMF Package
· IHLE-5A Series High Current Inductors with E-Field Shield that Provide 20 decibel electric field reduction at 1 centimeter for automotive applications
· SiC462 Synchronous microBUCK® Regulator - a 4.5 volt to 60 volt buck regulator capable of delivering up to 75 watt output power
· MKP1847H AC Filtering Film Capacitor that has a robust design for high humidity environments
· 10 amp to 30 amp FRED Pt® Ultrafast Rectifiers in SMPD Package offers higher power density
· IHXL Series Very High Current Inductors - the largest composite inductor available with up to a 250 amp continuous current rating
· SiRA20DP TrenchFET® Gen IV MOSFET - a 25 volt, 0.58milliohm N-Channel MOSFET that provides the lowest maximum RDS(on)
· DCRF (direct water-cooled power wirewound resistor) that can handle almost 10 times the power of naturally-cooled resistors in the same size