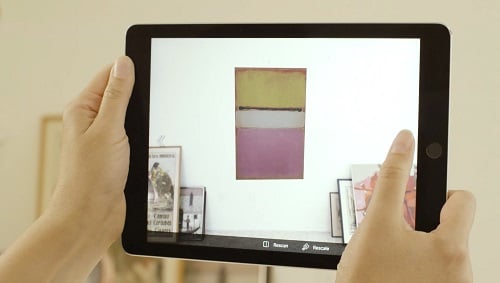 The VisualCommerce Mobile platform works with iOS, Amazon, Android and Microsoft tablets. Source: Marxent. Apple Inc. recently introduced its latest innovation involving augmented reality for use on an Apple iPad or iPhone.
While handy for Apple users, the technology won't help those retailers and homeowners find home décor, window treatments, art, mirrors and wall-mounted light fixtures on other non-Apple devices.
Marxent seeks to change that with its VisualCommerce Mobile augmented reality platform that not only works with iOS devices but also Android, Microsoft Surface and Amazon Fire Tablets. The AR allows shoppers and designers to visualize their wall-mounted décor purchase in context rather than having to take it home and hope it matches what they expect.
"While Apple's commitment to AR is exciting, ARKit's restriction to iOS devices prohibits large retailers and building product manufacturers from achieving maximum market penetration and realizing the full potential of a 3D content investment," said Beck Besecker, Marxent's CEO and co-founder.
Marxent says when paired with its 3-D cloud technology, the AR provides photo-real 3-D content for wall placement to help with anything that goes in a room or on a wall.