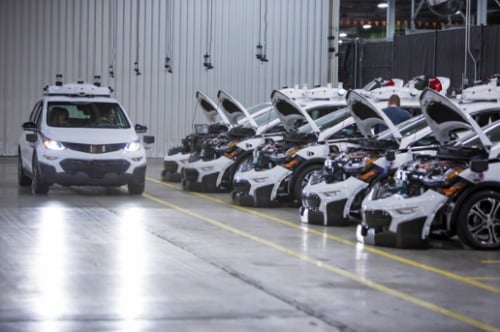 The new Chevy Bolt electric vehicles that will test autonomous driving technology. (Source: GM)General Motors says it has completed production of 130 Chevy Bolt electric vehicles (EVs) that it will use to test the company's next generation self-driving technology.
The vehicles will join more than 50 current-generation self-driving Bolt EVs that have been deployed and are testing in San Francisco, California; Scottsdale, Arizona and Detroit, Michigan.
The autonomous driving EVs include LiDAR (light detection and ranging), cameras, sensors and other hardware designed to test how safe and reliable fully autonomous cars can be. GM assembled the self-driving test vehicles in its Orion Assembly Plant located in Orion Township, Michigan.
"To achieve what we want from self-driving cars, we must deploy them at scale," says Kyle Vogt, CEO of Cruise Automation. "By developing the next-generation self-driving platform in San Francisco and manufacturing these cars in Michigan, we are creating the safest and most consistent conditions to bring our cars to the most challenging urban roads that we can find."
Cruise Automation was acquired by GM last year for $581 million. GM recently says it plans to hire an additional 1,100 employees and invest an additional $14 million to expand Cruise's San Francisco facility in order to ramp up research and development of its autonomous driving program.