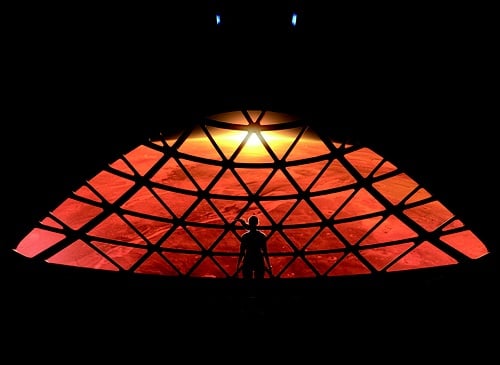 An artist's rendition of how a Mars civilization might look. Source: SpaceXElon Musk wants to get to Mars really bad.
The founder and CEO of Tesla Motors and SpaceX has been a rallying force behind getting humans to the red planet for a variety of reasons such as pure exploration, humanity's desire to expand and a way to stave off humanity's end in an extinction level event.
Already a figurehead working on technology that would allow astronauts to reach Mars and working with NASA, Musk has published a new commentary detailing the need to create a self-sustaining city on the planet.
In the article, Musk talks about the planetary options for expanding to a space-bearing civilization and describes the advantages Mars offers. He also details the system architecture required for a rocket and spaceship capable of transporting people and supplies to Mars as well as the major challenges faced by engineers and scientists to achieve such an endeavor, including the need to improve costs per ton of transporting materials to Mars by 5 million percent.
Mars' benefits include it is really the only planet within a short space distance that could support a planetary civilization. Venus is a high-pressure "hot acid bath", Musk says, while Mercury is way too close to the sun. One of the moons of Jupiter and Saturn might work, but those are much further from the sun and much harder to get to.
Mars is also generally more suited to humans as well because it has a 24.5 hour day, contains more resources and is large enough to support a big civilization. If Mars could be warmed up, it is possible it could develop a thick atmosphere and liquid oceans, Musk says.
Once humans get to Mars, determine where ice or water might be and what the composition of the atmosphere is, the next step would be locate the best possible places to establish a city. However, the costs of getting supplies and people to Mars is currently extravagant. This is why Musk believes the price to get people to Mars, which currently is around $10 billion per person, needs to be dramatically reduced to about $200,000, allowing enough people to get to the planet to build a self-sustaining civilization.
"To make Mars trips possible on a large enough scale to create a self-sustaining city, full reusability is essential," Musk says. "Full reusability is really the super-hard one. It is very difficult to achieve reusability even for an orbital system, and that challenge becomes substantially greater for a system that has to go to another planet."
To do this means creating spacecraft and rockets that can be reused again and again, much the same way a car or bicycle is. Another key would be to refill boosters and tankers fuel in orbit, which would reduce the cost and maximize the payload to Mars. There would also need to be a propellant factory on Mars that could then refill spaceships at the planet to get them back to Earth.
Musk details his ideas for spacecraft, rockets, fuel, architecture and more in the full article, which is available for free until July 5 on the website New Space.