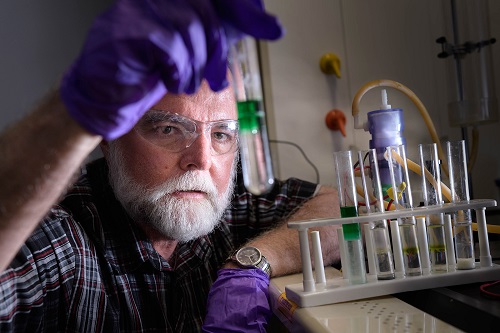 John Cushman of Purdue University is looking to commercialize a technology that would instantly recharge batteries for hybrid and electric vehicles. (Source: Purdue University)Current recharging capabilities for hybrid and electric cars take a considerable amount of time to get the lithium-ion battery to fully charge. While advances have been made to cut this time, compared to refueling a combustion engine, it is still a wide margin.
But researchers at Purdue University are looking to change this by developing a technology that could provide an "instantly rechargeable" method that is environmentally friendly yet affordable. The method could eliminate the time needed to stop and re-charge an electric car or hybrid reducing the need for new infrastructure to support re-charging stations.
"Electric and hybrid vehicle sales are growing worldwide and the popularity of companies like Tesla is incredible, but there continues to be strong challenges for industry and consumers of electric or hybrid cars," says John Cushman, professor of earth atmospheric and planetary science and a professor of mathematics at Purdue. "The biggest challenge for industry is to extend the life of a battery's charge and the infrastructure needed to actually charge the vehicle. The greatest hurdle for drivers is the time commitment to keeping their cars fully charged."
Ifbattery LLC (IF-battery) is an energy storage system that would enable drivers to fill up their electric or hybrid vehicles with fluid electrolytes to re-energize spent battery fluids. The spent fluids could then be collected and taken to a solar farm, wind turbine installation or hydroelectric plant for re-charging.
"Instead of refining petroleum, the refiners would reprocess spent electrolytes and instead of dispensing gas, the fueling stations would dispense a water and ethanol or methanol solution as fluid electrolytes to power vehicles," Cushman says. "Users would be able to drop off the spent electrolytes at gas stations, which would then be sent in bulk to solar farms, wind turbine installations or hydroelectric plants for reconstitution or re-charging into the viable electrolyte and reused many times. It is believed that our technology could be nearly 'drop-in' ready for most of the underground piping system, rail and truck delivery system, gas stations and refineries."
While other flow batteries exist, researchers say this is the first to remove membranes which reduces costs and extends battery life. The components of the Ifbattery are safe enough to be stored in a family home and are stable enough to meet major production and distribution requirements, the team says.