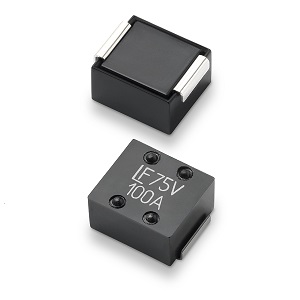 The Nano2 881 series. Image credit: Littlefuse
Littlefuse, Inc. has introduced a series of UL approved high current, surface mount fuses with a current rating from 60A to 100A.
At this rating, the fuses eliminate the need to parallel multiple lower-rated fuses and to use larger, over-spec industrial-type fuses, the company says. The Nano2 881 series has a minimal voltage drop and low temperature rise, which boosts the power efficiency by optimizing thermal performance minimizing power loss, Littlefuse says.
The fuses have an operating range from negative 55 degrees Celsius to 100 degrees Celsius for use in the data center market such as blade servers, server chassis, backplane boards and line cards. Other applications include uninterruptible power supplies (UPSs), base station power supplies, high power battery systems and power factor correction (PFC) in high-wattage power supplies.
The Nano2 881 series is available in surface mount packages in 24 mm tape and reel format in quantities of 500.