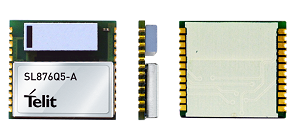 The SL876Q5-A smart antenna GNSS receiver. Image credit: Telit
Telit has introduced an ultra-slim series of smart antenna global navigation satellite system (GNSS) receiver modules for use in Internet of Things (IoT) projects.
The modules are designed to eliminate the need for additional components reducing size, cost and time constraints in IoT applications. The SL876Q5-A is compliant with regulatory and industry standards specifications and combines omni-directional low profile embedded antenna and an internal RF switch. This can be used in IoT applications such as personal trackers and alarms. The SL876Q5-A features a low noise amplifier (LNA), surface acoustic wave (SAW) filter and power management functions.
Other features include a MEMS wakeup, built-in LNA for improved sensitivity and several low power modes extending battery life for IoT devices such as wearables, personal trackers and other battery-dependent applications.
The SL876Q5-A will begin shipping in the second quarter of this year.