Europe's first medium-voltage direct current (MVDC) link is being supplied by GE Energy Connections as part of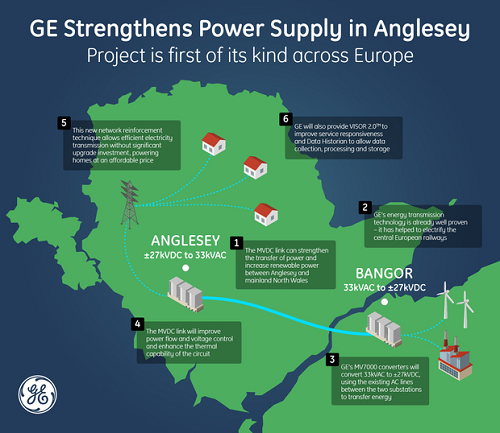 Scottish Power Energy Network's Angle-DC project in Anglesey and North Wales. The project aims to demonstrate a novel network reinforcement technique by converting an existing 33-kV AC circuit to DC operation.
The MVDC link will enable improved power flow and voltage control as electricity demand in the region increases. Converting AC assets to DC operation will also enhance the thermal capability of the circuit.
GE's Power Conversion AC-to-DC converters will be located at a 33-kV substation in Bangor and at a similar substation on the Isle of Anglesey. The 12 units of MV7000 converters at each substation will convert 33 kVAC to ±27kVDC using the existing AC lines between the two substations.
The company will also deliver VISOR 2.0, an asset management tool that provides remote connectivity to improve service responsiveness, and Data Historian, software that allows data collection, processing and storage, as part of the installation. Enhanced ability to capture and analyze data will allow SP Energy Networks to review the capabilities of the MVDC system and gather insights to develop optimum control algorithms for the distribution system.