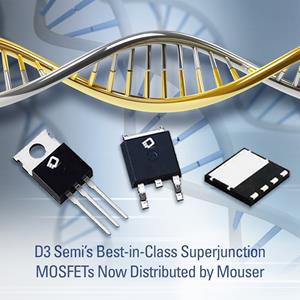 The +FET line of 650V-rated superjunction MOSFETs. Image credit: D3 Semiconductors
D3 Semiconductor's full product line of +FET line of 650V-rated superjunction MOSFETs are now available from global distributor Mouser Electronics.
The discrete components are used in hard-switched applications such as PFC boost and inverters for the telecom, enterprise computing, UPS and solar markets. Being at the 650V node helps to improve power densities of applications that traditionally are served by insulated-gate bipolar transistors (IGBTs).
The MOSFETs feature an ultra-low on-state resistance (RDS-ON) ranging from 32 milliohm to 1,000 milliohm for improved performance in low-frequency applications, as well as fast-switching capabilities that allow devices to perform rapid transfers of the gate charge in a short period of time, D3 says.
The devices meet the JESD 22 standard for electrostatic discharge (ESD) performance and are high temperature reverse bias (HTRB) stress tested for over 3,000 hours.