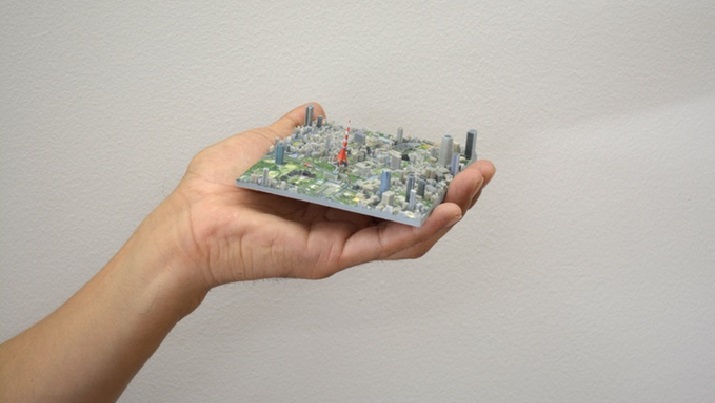 iJet Inc., a 3-D printing solutions provider in Tokyo, is working on a 100-piece scale model of Japan's largest city. The company launched a Kickstarter crowdfunding campaign last fall to help fund the project, raising more than double its initial $10,000 goal within a matter of four weeks.

Each of the 10 cm-by-10 cm pieces that make up "One Hundred Tokyo" is intended to serve as a collectible, three-dimensional map of a single neighborhood in the city. The pieces are designed using urban model data from Zenrin, the data provider for Google Maps and Microsoft's Bing Maps. According to project manager Ryusuke Matsuura, turning digital cartographic data designed for car navigation into useable 3-D printing data is quite a challenge.

The model is being created with 3-D printing technology that employs gypsum powder enveloped in resin as its base; additional resin paint is applied after hardening. The bottom of each piece is magnetized and labeled for assembly.

Only a portion of the pieces have been produced thus far; there were 13 when the Kickstarter campaign was launched, with the others still in development. Eventually, the full 100-piece set will fit together to form a complete miniature replica of the 845-square-mile cityscape.

iJet Inc. company founder and CEO Masaru Kumehara notes that Tokyo will be the site of the 2020 Olympic games, hosting visitors from all over the world to experience the city's cosmopolitan energy. "We want you to have that energy with you every day," adds project lead Tomohisa Nishimura. "That is why we are creating this full-color 3-D georama of our city."

With its vertical landscape of skyscrapers, silver towers and neon lights, Tokyo is particularly well-suited for three-dimensional representation. The "One Hundred Tokyo" model is being created with a 1/12,500 scale that will provide a realistic bird's-eye perspective of the metropolis.