Radiation oncology vendor Elekta (Stockholm, Sweden) launched its new MRI-guided radiation therapy system at the 36th European Society for Radiotherapy and Oncology meeting in Vienna, Austria.
The Elekta Unity combines a diagnostic-quality 1.5-Tesla MRI scanner with a linear accelerator (linac) in one unified system. The design allows for more precise treatment, including higher doses targeting sensitive areas containing multiple organs, and immediate observation of how the tumor is being affected by the radiation. Previous systems relied on low-field MR, which is not sufficient to produce crisp, readily analyzed images.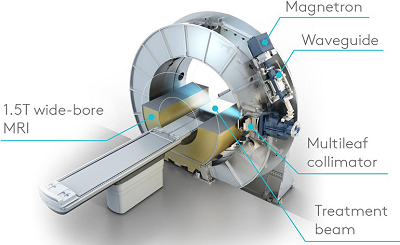 Elekta Unity provides real-time MR imaging during radiation therapy. Image credit: Elekta
Patient-centric attributes, including a compact, wide bore (70cm) MRI and soft tabletop, enhance patient comfort during treatment. Elekta Unity is expected to support the use of higher doses administered over fewer sessions, enabling shorter and more effective courses of treatment.
In addition to real-time imaging, Elekta Unity is capable of functional MR imaging, which provides information on cellular activity within a tumor and could potentially detect whether a tumor is responding to therapy at the earliest stages of treatment.
In October 2012, Elekta established a global consortium of partnering institutions to merge precision radiation delivery with MR imaging—from MR technology partner, Philips—in a single system. In addition to assuming responsibility for the core research and development and engineering activities, the consortium has generated the clinical and workflow protocols that will maximize the new system's therapeutic efficacy and ensure seamless integration into existing radiation oncology department procedures.
The Elekta Unity is not yet available for general sales in European markets with planned CE Mark for later 2017.