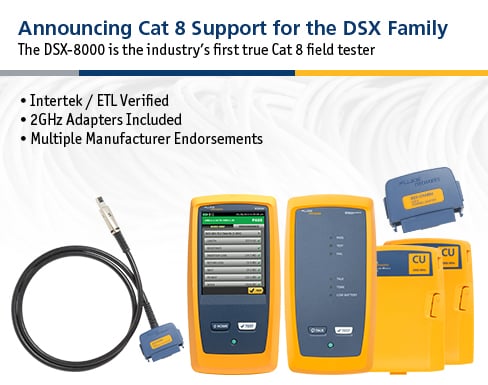 Source: Fluke NetworksFluke Networks, the worldwide leader in certification, troubleshooting and installation tools for professionals who install and maintain critical network cabling infrastructure, has introduced the DSX-8000 CableAnalyzer™. The DSX-8000 is the world's first independently verified category 8 field tester and the latest addition to the Versiv™ Cable Certification Family, a line of products designed to help data communication installers quickly and accurately achieve system acceptance for copper and fiber media.
"The Fluke Networks DSX-8000 CableAnalyzer has been confirmed by Intertek to meet the ANSI/TIA-1152-A Level 2G requirements for measurement accuracy." said Antoine Pelletier, Project Engineer – ICT Cabling Products Testing, Intertek. "The availability of testers that meet this standard is an essential milestone in the evolution of cat. 8 and means customers can ensure their installations are standards compliant." The category 8 field tester supports 25 and 40 gigabit Ethernet networks, is capable of 8 second category 6A certification, and can test screen continuity along the path of the cabling as required for Level 2G testers.
For more information on the product, click here.