SAP announced new partnerships with Mitsubishi Electric and KUKA AG that will extend its IIoT services and robotics technology. The companies announced the partnerships at the recent Hannover Messe industrial trade show.
SAP's agreement with Mitsubishi Electric Europe enables Mitsubishi's e-Factory to interface with SAP's Cloud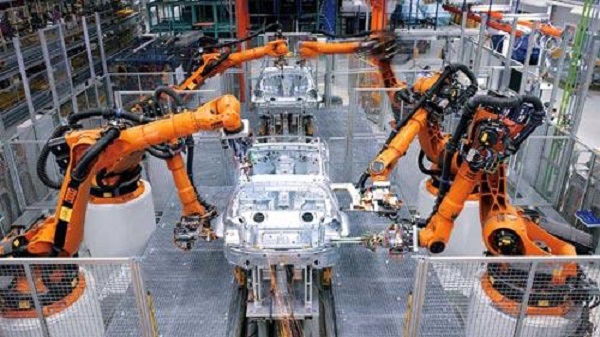 Industrial robots. Credit: ISAPUT/CC BY-SA 4.0Platform. By integrating the two platforms, customers can access IoT applications like remote device and connectivity management and predictive maintenance. Mitsubishi's customers can choose specific information to share with SAP's software.
Hartmut Pütz, president, Factory Automation – European Business Group for Mitsubishi Electric Europe, said "Here, our e‑Factory Alliance partner, SAP, provides tools and applications to enable users to utilize production information to the fullest extent."
The collaboration between SAP and KUKA AG, a European robotics manufacturer, focuses on integrating selected features of SAP's Leonardo portfolio, with KUKA's own connyun cloud platform. SAP developed Leonardo specifically to support Industry 4.0 and the Industrial Internet of Things (IIoT).
The combination of the two software platforms is intended to give businesses improved "top floor and shop floor" manufacturing integration.