A new type of automotive-rated isolation monitoring safety device capable of detecting potential electrical hazards during the dynamic operation of high-voltage unearthed systems, such as electric and hybrid vehicles, is available from Sendyne. The SIM100 module is the first device of its kind that can unambiguously detect the electrical isolation state of a high-voltage system while the system is active and operating, and experiencing large voltage variations.
State-of-the-art technology today is limited to detecting only resistive leakages and only when the system voltage does not vary significantly. The SIM100 detects both resistive leakages and capacitively stored energy that could be harmful to human operators.
High voltage battery systems, such as those used in electric vehicles, are typically electrically isolated from the chassis for operator protection. However, this isolation may deteriorate and expose those who come in contact with chassis to potential hazardous shocks. Capacitances from the power system to the chassis may also inadvertently change, accumulating hazardous charges. If either condition is detected, the operator should be notified in order to immediately service the vehicle. In case of an accident, the emergency first responders will also rely on this information so they may approach the vehicle safely.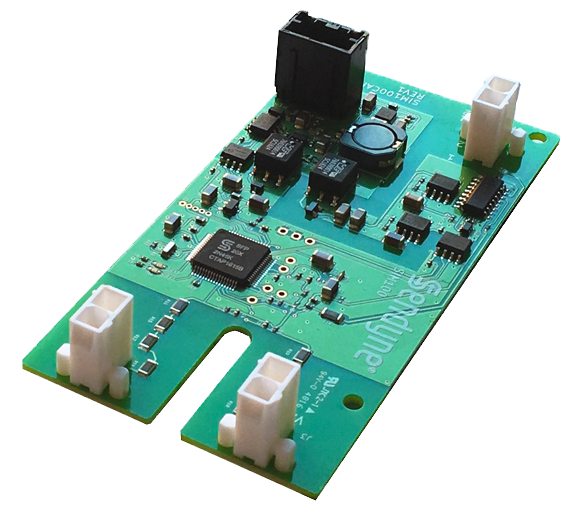 The high voltage isolation monitoring device for electric/hybrid vehicles. (Source: Sendyne)
Sendyne's SIM100 is unique in that it can detect these types of potential hazards while the system is operating and voltages are fluctuating as much as 100 V. Commercial devices so far are only able to detect resistive leakages when there are no dynamic fluctuations in the electrical system. For industrial and commercial systems that have to be in operation most of the time, this limitation can be dangerous.
The Sendyne SIM100 IC models the supervised unearthed system, and through stochastic optimization methods, determines the condition of all types of electrical paths from the high voltage system to the chassis. The SIM100 can detect the values of each resistance or capacitance, as well as the location of the potential hazard, whether on the positive or the negative path. In addition, uncertainty values for each estimate are calculated.
Communications are achieved with the host ECU via an isolated CAN 2.0B interface (500 kbit/s). The module has wide input voltage of 5 V to 53 V, thereby accommodating most vehicle systems. It provides a wide temperature range of –40 °C to +105 °C. The module was designed to ISO 6469-3:2011-12 / FMVSS 305.