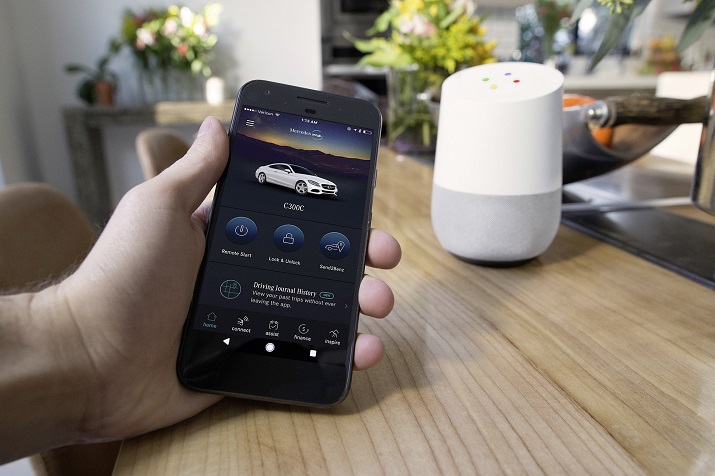 Mercedes-Benz now uses voice commands via Amazon Alexa or Google Home assistants. Image credit: Daimler
In response to customers seeking greater interactions between the Internet of Things (IoT) and their vehicles, Daimler AG's Mercedes-Benz brand will now offer integration of both Google Home assistant and Amazon Alexa.
Mercedes-Benz says by connecting the home portals to vehicles it will give drivers more personalized engagement and experiences with control being used by voice command.
The voice-enabled options on 2016 and 2017 Mercedes-Benz cars include:
Remote starting
Remote lock
Remote navigation input
Point of interest requests
Drivers will need to have a Google or Amazon home hub along with the Google Home or Amazon Alexa app and connect it with the Mercedes-Benz car. The service is now available in the U.S. with the company bringing it to Europe later this year.
"We want to offer our customers a broad range of services 24/7, not just when they are in our cars," says Nils Schanz, head of IoT and wearable integration at Mercedes-Benz. "Mercedes-Benz's goal is creating an intelligent ecosystem around cars, and developing cutting-edge technology to make everyday life more convenient for our customers."
While other brands have ported Alexa to cars, Mercedes-Benz claims it is one of the first carmakers to integrate Google Home in their vehicles and the move to include smart home technology in its vehicles signals another step toward the company's connectivity strategy.