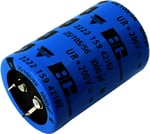 Plug-in power aluminum capacitors. Image credit: Vishay
Vishay Intertechnology, Inc. has extended its 500 V devices in its 159 PUL-SI series of snap-in aluminum capacitors.
The capacitors feature a cylindrical aluminum case with a pressure relief valve and offer rated voltages from 200 V to 500 V with a high ripple current to 2.80 amps, a maximum ESR down to 150 mΩ at 100 Hz, and a maximum operating temperature to 105 degrees Celsius. The devices also have a lifetime usage of up to 5,000 hours.
The 159 PUL-SI series are suited for smoothing, filtering and energy storage in pulsed power applications such as solar inverters, industrial motor control and power supplies. The series is also RoHS-compliant and available in a keyed polarity snap-in version.
The capacitors are available now in sample and production quantities ranging in price from $1 to $10 per unit.