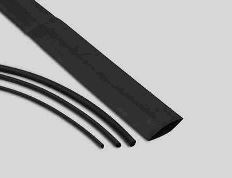 Raychem's SWFR heat shrink tubing. Source: Sager Sager Electronics has announced it is supplying Raychem's single wall heat flame retardant (SWFR) heat shrink tubing that increases safety and can be used in confined areas where halogenated materials are prohibited due to emitting toxic or acidic gases when burned.
The shrink tubing provide electrical insulation and mechanical protection for components, connections and terminations from abrasion. The tubing is rated for UL VW-1 flammability test specified by the UL 224 standard.
The Raychem tubing comes as either thin wall or very thin wall versions, shrink at a 2:1 ratio and can be used across temperatures ranges from minus 30 degrees Celsius to 125 degrees Celsius. The SWFR thin wall products come in 17 sizes from 1.0mm to 30mm and the very thin tubing are available in 13 sizes ranging from 0.8mm to 25mm.
The SWFR products are halogen free and can be used in applications such as control cabinets, elevators, off-road vehicles, computer peripherals, refrigerators and mass transit vehicles.