Nanotechnology could become a disruptive force in materials science. Nanomaterials can be made lighter, stronger, slicker and denser than conventional materials. The energy production, aerospace and defense, industrial manufacturing, biotechnology and environmental engineering industries have all applied nanotechnology to their products and processes on an increasingly commercial scale.
Nanotechnology has also expanded to innovation in the world of sports technology. Professional athletes perform at such a high level that improvements in their apparel and equipment—like those brought about through nanotechnology—can mean the difference between a win, loss, personal best performance or world record.
Stronger, Lighter Equipment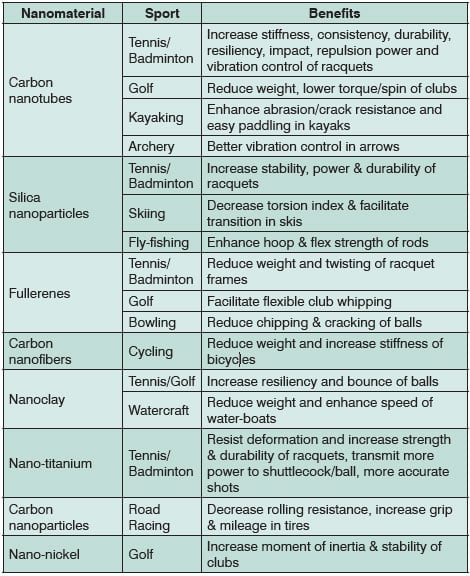 Image credit: Abhilasha Verma / Nanowerk
Racquet sports are prime examples of nanotechnology application. Sporting goods manufacturer Wilson has been manufacturing tennis racquets using various degrees of silicon dioxide since 2004. The company first combined SiO2 nanomaterials with carbon fibers in racquet strings to increase strength without increasing weight, and introduced the BLX line of silicon dioxide-basalt racquets in 2010. Yonex also manufactures a badminton racquet with a fullerene resin shaft for increased power and stability without increased weight.
Apart from racquets, Wilson's double core tennis balls utilized InMat Air D-Fense / Nanolok coatings. InMat's coating consists of nanodispersed silicates in a polymer matrix, and the company claims it has the highest gas barrier of any commercially available polymeric coating. By applying a thin layer of Nanolok coating on the ball's inner rubber lining, InMat claims that the tennis balls last twice as long due to less air loss, and are also lighter weight.
Carbon nanotubes (CNT) have generally been used to create sporting equipment that is up to 100 times stronger than conventional materials but also 6 times lighter. CNTs are incorporated into nanocomposite resins, which are then used to create ultralight bicycle handlebars and frames. Swiss bicycle manufacturer BMC has manufactured its Teammachine and Promachine with CNT frames since 2004. Their 2006 SLC01 Promachine model weighed close to 1 kg but possessed a tubular strength 400 times that of steel, a feat only possible using nanomaterials. Cyclist Cadel Evans won the 2011 Tour de France on a Teammachine bike with a nanocomposite frame.
Slicker Coatings
CNTs are also useful as coating components. When conventional coatings are applied to a surface, the coating particles scatter and form a random pattern on the surface, leading to gaps in the coating's effectiveness. Particles of a CNT coating, however, self-arrange into ultra-thin, symmetrical layers, increasing the coating's surface area and allowing for greater chemical reactions between the coating and surface. These reactions drastically increase the coating's intended characteristics.
Several sport applications benefit from nanocomposite coatings. Ski wax manufacturer Holmenkol employs nanocomposites in their products to increase a ski's gliding and water repellent characteristics. Similarly, Re-turn AS, an applied nanotechnology company, manufactures an epoxy containing CNTs for coating the kayaks, resulting in superior abrasion resistance.
The table shown here summarizes the uses above as well as many other uses for nanotechnology products in sports.
Ethical Questions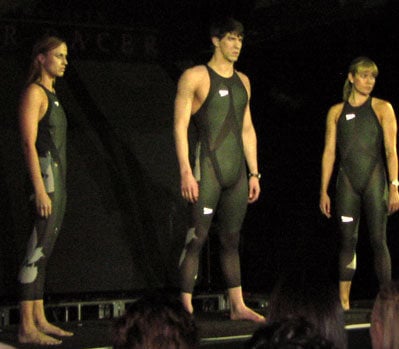 The unveiling of Speedo's LZR Racer suit in 2008.Nanotechnology lends a major competitive boost to the users of its products, whether through superior strength-to-weight ratios or slickness. This competitive advantage has led some sport organizations to approach nanotechnology cautiously and with skepticism. The nanotech advantage is easily compared to doping—the use of performance-enhancing chemicals to gain an unfair advantage—, which is illegal in most sports.
One of the first mentions of so-called "technology doping" occurred following the 2008 Beijing Olympic Games, at which 168 world records were broken by competitive swimmers. Ninety percent of the 2008 gold medal winners were wearing Speedo's LZR Racer bodysuit, which is coated with water-repellent nanoparticles. In 2010 the Fédération Internationale de Natation (Fina), international swimming's governing body, responded by banning non-textile suits for giving competitors an unfair advantage. In the racing world, the Fédération Internationale de l'Automobile (FIA) was relatively slow to adopt nanotechnology and only started questioning the legality of nanofiber composites in 2012.
While most sports agencies allow wholesale use of nanotechnology-enhanced equipment, they face a few key questions on an ongoing basis. Does every athlete have equal access to enhanced equipment? Does the technology dilute the importance of athleticism? Is the equipment safe for athlete and spectator health? Should there be a limit on technology if it impedes the hard work and skill necessary to create an entertaining sport product? Such questions can and should guide the legality of nano-enhanced equipment in sports.
Nanotechnology is still in its infancy, and further development could revolutionize every aspect of sports and life itself.