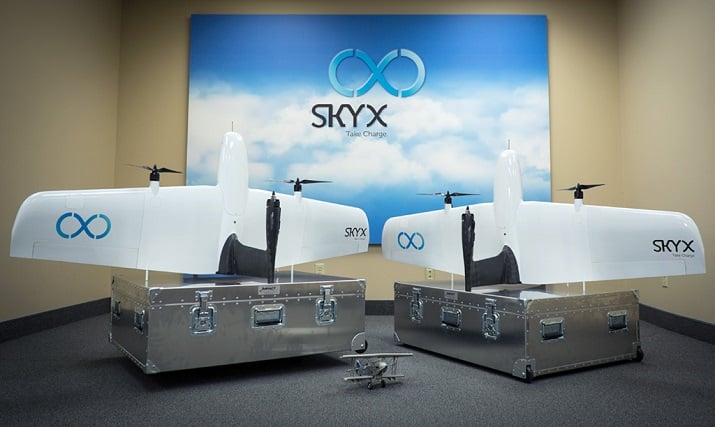 SkyX's SkyOne drone can travel at up to 93 miles per hour for 70 minutes before having to recharge while still in the air. Image credit: SkyX
A new unmanned aerial vehicle (UAV) start-up has launched with the focus on bringing greater security to the oil and gas industry, specifically monitoring pipelines from the air.
SkyX is an Ontario, Canada-based company that is looking to improve the way those in the oil and gas sector use vehicles to detect any damage or threat to their operations. Currently, most companies use manned aircraft such as helicopters or ground vehicles to do the job. SkyX is looking to lower the cost of these operations and make them more efficient by using drones.
SkyX's first drone, dubbed SkyOne, can stay in the air all day providing unlimited data collection in real-time and offers a far wider scope of information compared to these traditional monitoring methods, the company says. The drone offers vertical take-off and landing (VTOL) capabilities as well as autonomous flight and recharging.
Oil and gas companies can lease the SkyOne that can travel at rates up to about 93 miles per hour for 70 minutes and can detect leaks, vandalism, vegetation encroachment and more. The drones also provide access to custom data without any heavy maintenance costs and either one UAV or an entire fleet can be used to monitor events in real-time, SkyX says.
SkyX is touting SkyOne's ability to recharge itself in the field. Instead of returning to a home base to recharge, it flies to a proprietary station where it recharges in a weather-shielded dome before continuing its flight.
The need for more cost-effective surveillance of pipelines comes as pipeline leaks are a cause of global concern, as are acts of terrorism or activism that might threaten systems. SkyX says the potential for the market is huge considering the oil and gas market spends about $37 billion a year on monitoring and there are more than 621,371 miles of pipeline worldwide.
"The market is, obviously, of huge global importance. We know that our technology can significantly cut costs and improve efficiency—helping the sector as a whole, along with each and every customer," says Didi Horn, founder and CEO of SkyX.
Horn says the company is currently expanding its drone lineup with the help from its strategic investment partner in order to increase its share in the market.