We've all been there. Forgetting that your phone is in your swim shorts as you enter a pool. The errant smartphone fumble near the toilet. The washing dishes dance party that ends abruptly.
Smartphones aren't waterproof. A problem that costs consumers ample amounts of dollars each and every day when an accident occurs leaving their smartphone useless.
Making a smartphone water-resistant is more than just placing your phone in a large baggie and having it float, instead it requires the circuit board inside the device to be coated with a substance that keeps water out. However, these methods are generally costly and can be difficult to apply. If the coating doesn't work out right, it could lead to cracking, delamination, bubbles or pinholes to appear leaving the circuit board vulnerable.
Aculon says it has found a solution in its nano-enabled surface treatment to protect circuit boards that allows consumers to submerge their smartphone for up to 30 minutes.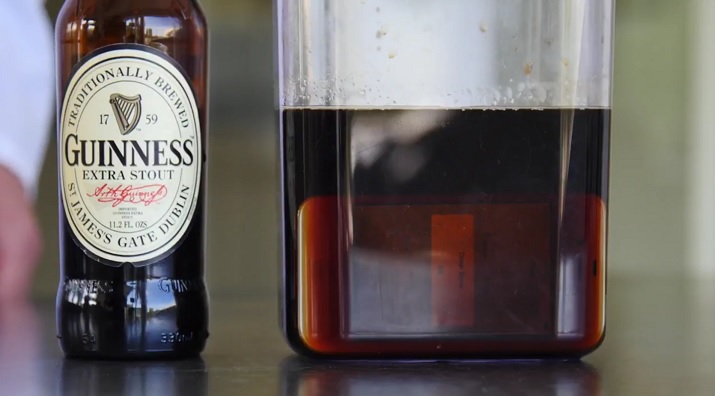 Aculon tested its NanoProof surface coating on an iPhone 7 by dropping it in a pint of Guinness. Source: Aculon Aculon went so far as to test its coating process in a video where it submerges an iPhone 7 in a pint of Guinness, showing that it still works. In the video, after a businessman accidentally spills water on his iPhone, he calls on engineers to solve the problem of making it waterproof. They then promptly place the iPhone inside a vat of Guinness. Obviously, the actual coating process of the circuit board step is missing from the video, but the result is an iPhone that can survive a wild night out on the town.
The NanoProof coating is a no mask solution-based hydro/oleophobic coating that has all the benefits of conformal coating without the defects or capital investment. The technique is sprayable or dip-based and does not require a cure nor does it have an impact on conductivity, Aculon says.
The treatment can be used for more than just smartphones, however, as watches, eyewear, movie screens, particles and other applications can be made waterproof.
Now, just don't go out and show your friends your new magic trick as Aculon warns not to submerge any smartphone in any liquid without getting the treatment first.