While automotive OEMs, software companies and chipmakers are putting forth a tremendous amount of effort in the race to bring the first self-driving car to the market, a new report from auto insurance giant AAA casts doubt that consumers are ready for the technology leap.
AAA found in a survey that more than three out of four drivers feel afraid to ride in a self-driving car and only 10 percent of drivers would actually feel safer sharing the roads with driverless vehicles. Interestingly, this contrasts with the fact that a majority of those surveyed (59 percent) actually want autonomous vehicle technology in their next car.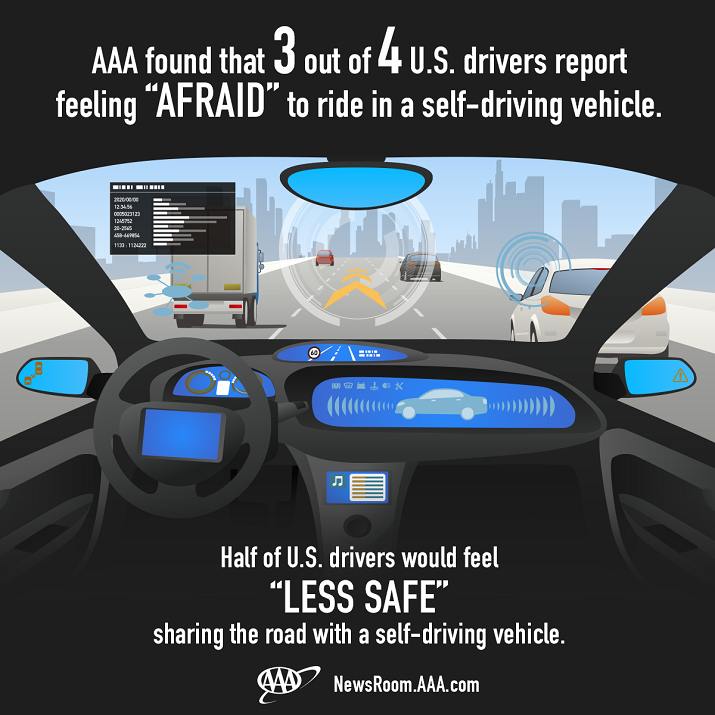 Some drivers fear being on the rode with a self-driving car and most don't want to ride in one. Source: AAA The report comes as AAA is urging those developing autonomous vehicles and autonomous technology to gradually and safely introduce these technologies in order to ensure that American drivers are informed, prepared and, most importantly, comfortable with this shift in mobility.
"A great race toward autonomy is underway and companies are vying to introduce the first driverless cars to our roadways," says Greg Brannon, AAA's director of Automotive Engineering and Industry Relations. "However, while U.S. drivers are eager to buy vehicles equipped with autonomous technology, they continue to fear a fully self-driving vehicle."
Half of the U.S. drivers surveyed (54 percent) say they feel less safe at the prospect of sharing the road with a self-driving vehicle, while 34 percent say it wouldn't make a difference and 10 percent say they would feel safer. Among the generational gap, 60 percent of Baby Boomers are likely to feel less safe than Generation X (56 percent) or Millennials (41 percent). Millennials are also the most likely to want the technologies in their future cars coming in at 70 percent.
"U.S. drivers may experience the driver assistance technologies in their cars today and feel they don't work consistently enough to replace a human driver—and they're correct," Brannon says. "While these technologies will continue to improve over time, it's important that consumers understand that today's systems require your eyes on the road and your hands on the wheel."