Used for years in subtractive manufacturing for their ability to thermally ablate materials, femtosecond lasers may now have a new application: Additive manufacturing.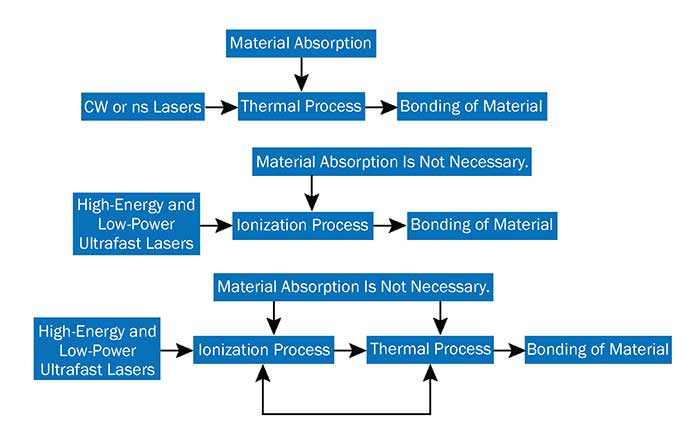 A comparison of CW and fs laser 3-D printing / Photo courtesy of PolarOnyxWith a unique ability to instantaneously generate high temperature plasma, femtosecond lasers can melt refractory metals, 3-D print multimaterial components and manipulate microstructures to change their mechanical properties.
How It Works
A new fs fiber laser, developed by PolarOnyx Inc., can melt high-temperature metals like tungsten, achieving 99 percent density within the 3-D printed parts. Additionally, the laser can deposit metals on glass substrate.

The new technique shows a number of advantages over using CW or long-pulsed lasers, which are the current methods for 3-D printing industrial metals like tungsten, titanium, iron and aluminum.

Using fs lasers for laser AM creates instantaneous high temperatures that melt high-temperature and high-thermal conductivity metals, resulting in stronger microscale welding and bonding than CW lasers can create. This can reduce building time and cost while increasing the array of structures that can be printed.

Additionally, by varying fs laser parameters such as energy, power and pulse repetition rate, as well as the scanning speed and the pattern, the lasers can create nearly any structure or shape, with a controllable porosity, microstructure and density up to 99 percent.
3-D Printing on Glass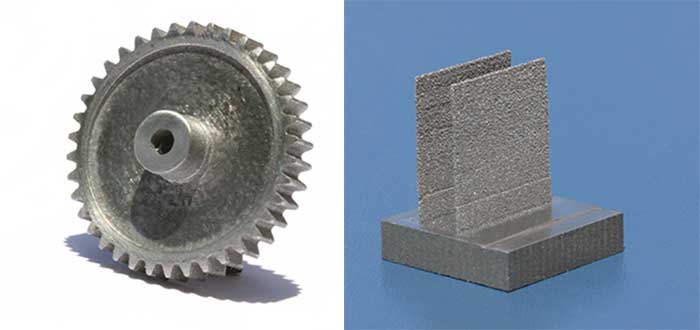 3-D printed tungsten parts / Photo courtesy of PolarOnyxResearchers successfully 3-D printed an iron powder coating on a fused silica glass window, which reduced stray light for more accurate laser remote sensing. Because iron and glass have such different melting temperatures and thermal conductivity, attempts to 3-D print iron on glass using other laser printing methods often results in the glass cracking. However, thanks to the fs process and its instantaneous high-temperature plasma generation, the glass remained intact throughout the printing process.
New Applications for fs Lasers
These developments, outlined in a paper by PolarOnyx founder Jian Liu, could lead to additive manufacturing applications in aerospace, healthcare and medical devices and defense.