The National Additive Manufacturing Innovation Cluster (NAMIC), formed by the National Research Foundation (NRF) Singapore and SPRING Singapore, has reached out to approximately 400 local and international companies to help further the adoption of 3-D printing, also called additive manufacturing. NAMIC has also established joint funding for 39 projects between companies and academic research institutions, such as Nanyang Technological University, Singapore (NTU Singapore).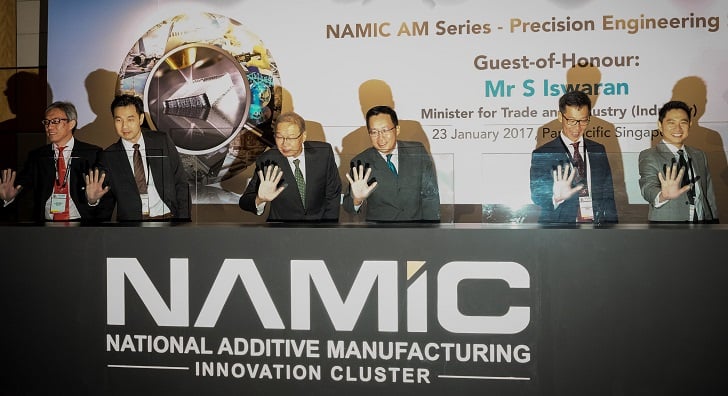 The National Additive Manufacturing Innovation Cluster (NAMIC) aims to strengthen and expand Singapore's 3-D printing industry and technologies.NTU's innovation and enterprise company NTUitive is leading NAMIC in partnership with SPRING Singapore and the Singapore Economic Development Board. The cluster's three founding members are Nanyang Technological University (NTU), National University of Singapore (NUS) and the Singapore University of Technology and Design (SUTD).
Many of the projects under development and in the pipeline feature disruptive 3-D printing technology designed to transform their respective industries.
Customized Tissue Implants Could Help Regenerate Patients' Organs
Through a partnership between NTU and a Singapore-based 3-D printing start-up, health-care professionals may soon have the means to 3-D print customized tissue implants for patients. By printing the supporting structure layer by layer and then inserting living cells to form live tissue, the technique would create implants that could aid in the regeneration of tissue or even certain organs.
3-D Printed Products Authenticated with New Tech
A partnership between NTU's Singapore Centre for 3-D Printing and global inventions company Intellectual Ventures could yield a new way to authenticate 3-D printed products. As the field of 3-D printing advances, the risk of counterfeit and knock-off items, especially of popular brands of consumer items, grows. How will you know if those custom 3-D printed sneakers are the real thing, after all?

A unique identifier code embedded during the printing process, developed by NTU scientists, would act like a barcode, helping safeguard product authenticity for manufacturers. The Embedded Identifier Module (EIM), as it is called, has already been demonstrated on 3-D printed stainless steel prototypes. It can be easily read by commercially available scanners and readers, and it has shown to be impossible to remove or alter.
3-D Printing Helps Fuel Space Travel
Researchers at Gilmour Space Technologies and SUTD are developing a 3-D printer to create prototype solid fuel mixtures for rockets. This hybrid rocket fuel technology is created from two or more fuels made of wax and plastics. The design and printed structure of the fuel creates a cost-efficient means to give rockets the desired thrust.
Better Printing Processes Reduce Waste
Singapore-based IDI Laser is working with NUS to develop an in-process monitoring system for Selective Laser Melting 3-D printing. The system will help diagnose internal defects during the printing process, increasing efficiency and reducing the waste of printing time, raw materials and energy to run the printer, ultimately reducing the cost to print using this process.
The Future of 3-D Printing
Companies in the U.S. and abroad have already made tremendous strides in the accuracy, efficiency and capabilities of 3-D printing. NAMIC will help strengthen and expand Singapore's additive manufacturing capabilities and the potential to innovate new processes, products and applications, ultimately bringing these new technologies across the world for all to enjoy the benefits in a variety of industries.