Bosch is touting new research that shows that consumer interest in electrification of vehicles is reaching a level where 62% of new car buyers believe they will own at least one fully electric vehicle in their household in the next 10 years or less.
Through OEM feedback and its own internal research, Bosch found that out of the consumers that say they will have a full-electric vehicle, 71% believe the only vehicles in their home will be electric in the next 15 years. Bosch is demonstrating how powertrains will differ from combustion engines at this week's North American International Auto Show (NAIAS) and how the technology can be accessible to mainstream consumers.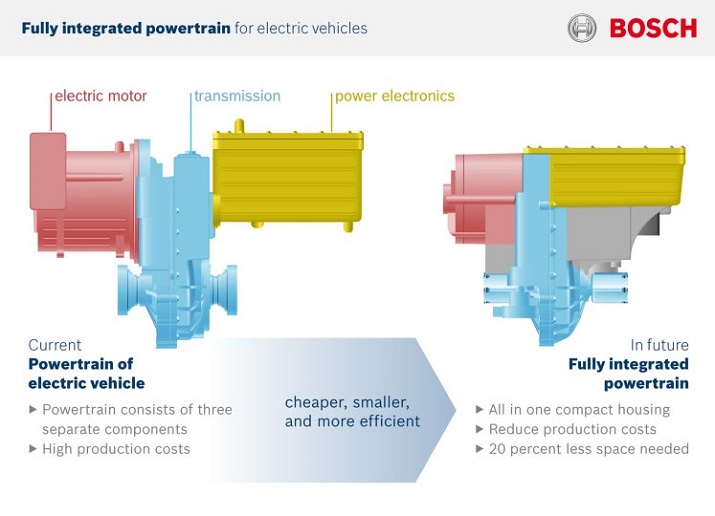 Bosch says new car buyers believe in 15 years they will have nothing but electric vehicles in their home. Source: Bosch Bosch recognizes that while there is a growing desire to purchase full-electric vehicles among the public, anxieties remain about vehicle reliability, distance between re-charging stops, re-charge time, purchase price and cost of repair and maintenance. Among respondents to Bosch's survey, 32% indicated as a result of these anxieties, they show no interest in electric vehicles.
Making Electrification Accessible
Bosch will debut its electric axle drive system, dubbed eAxle, at NAIAS. The system is a scalable, modular platform that can bring 5-10% cost efficiency as compared to stand-along components, and is flexible for multiple platforms to bring top-of-the-line Bosch powertrain components into one system.
Bosch's system, using a thermal management station, extends electric vehicle range by up to 25%, especially in winter driving conditions. Bosch also is making strides to improve traditional internal combustion engine systems as well, by improving efficiency and reducing particulate and gaseous emissions.
Other innovations Bosch will be showing at NAIAS include automated and connected technologies to fuel the path to fully automated driving.