Lithium-ion batteries power many of the world's devices, including smartphones, tablets, scooters, laptops, electric cars, energy-storage systems and more. Because of this, demand for these batteries is at an all-time high despite some of the complications with them overheating and even catching fire.
Tesla Motors has many ideas about the future of transportation and energy storage, and those ideas involve lithium-ion batteries. As such, the company has announced it has begun mass production of its 2170 lithium-ion battery cells at its Gigafactory in collaboration with Panasonic.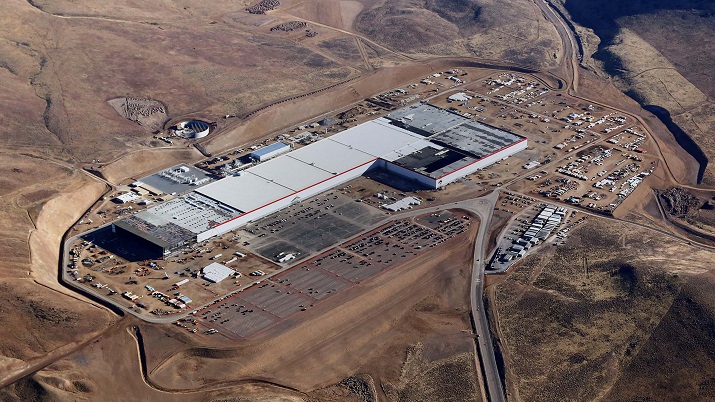 Tesla's Gigafactory is only 30% completed, but production has begun for lithium-ion batteries for the company's energy-storage products. Source: Tesla Tesla says qualification for these battery cells began in December, and it has now started production on cells to be used in Tesla's Powerwall 2 and Powerpack 2 energy products for home and commercial energy storage. Batteries for its Model 3 electric vehicle (EV) will follow in the second quarter. By 2018, Tesla's Gigafactory will produce 35 GWh/year of lithium-ion battery cells, the same amount of battery energy as the combined production from other companies worldwide, the company claims.
As a result of production being ramped up in the factory, Tesla says its costs of battery cells will decline in time due to increased automation and process design yield. Bringing down the cost of batteries will help make energy-storage batteries and EVs more cost efficient for more people, the company says.
Tesla's Gigafactory is not yet completed, but the company says it is being built in phases so that Tesla, Panasonic and other partners can begin production inside the finished sections and expand after the other sections are completed. This method gives the company the ability to learn and improve processes and techniques in order to drive down costs and improve efficiency.
The Gigafactory houses 4.9 million square feet of operation space across several floors. Tesla claims the Gigafactory will be the biggest building in the world once it is finished. The company says that once the factory is at peak production, it will employ 6,500 people and indirectly create about 20,000 to 30,000 additional jobs in the Reno, NV, area.