Fans of Marvel's X-Men comics may have to wait until March to see Wolverine once again on the big screen, but scientists and engineers could be using a highly stretchable material similar to Wolverine's self-healing skin even sooner than that.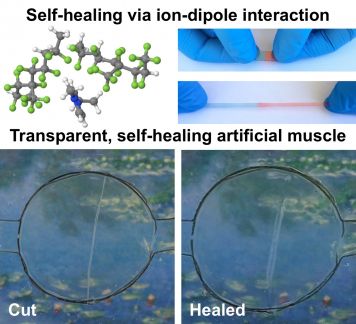 The artificial muscle heals itself completely within just 24 hours. A team of researchers from the University of California, Riverside, and the University of Colorado, Boulder, recently developed a transparent, conductive rubber-like material that can be electrically activated to power artificial muscles, as well as improve batteries, robots and other electronic devices.

Most notably, the material has the ability to self-heal. Studies show that after being cut, the material can re-attach itself within 24 hours at room temperature, with no outside intervention. After only five minutes of healing, the material can be stretched to twice its original size.
Stretchy, Transparent and Self-healing
Combining self-healing with the ability to stretch to 50 times its original length, the material could be described as a cross between Wolverine and The Incredibles' Elastigirl. But the inspiration for the research came directly from the pages of the X-Men comic books, says Chao Wang, an adjunct assistant professor of chemistry and one of the study's authors. Chao says his interest in self-healing materials was borne out of his lifelong love of the Wolverine comics.

Wang used a mechanism called ion-dipole interactions—forces between charged ions and polar molecules that are highly stable under electrochemical conditions—to create a self-healing ionic conductor that is also stretchable and transparent.

Previously Christoph Keplinger, an assistant professor at the University of Colorado, Boulder, had achieved two out of those three characteristics; but he could not get the prior material, used in transparent loudspeakers, to self-heal following damage. Wang did so by combining a polar, stretchable polymer with a mobile, high-ionic-strength salt.

"Creating a material with all these properties has been a puzzle for years," says Wang in an article published by the University of California, Riverside. "We did that and now are just beginning to explore the applications."
Powering Artificial Muscles
In the study, graduate students Timothy Morrissey and Eric Acome determined the material can be used to power a dielectric elastomer actuator, or an artificial muscle—a generic term for any material or device that can reversibly contract, expand or rotate through an external stimulus such as voltage, current, pressure or temperature. Artificial muscles are used in loudspeakers, robots and a number of other applications.

The artificial muscles created for the study were composed of three pieces of polymer stacked together—the top and bottom layers made of the new, rubber-like transparent ionic conductor, and the middle layer a transparent, non-conductive, rubber-like membrane.
Countless Applications in Healthcare, Robotics and Electronics
The new material could have countless applications in robotics, healthcare and consumer electronics. Robots—especially robots not easily accessible to human beings, such as those used for space exploration—could self-heal after mechanical failure. In addition, the material could help extend the life of lithium-ion batteries and improve biosensors used in healthcare applications and environmental monitoring.