Analog Devices, Inc. (ADI) has introduced the ADXC150x series of inertial combo sensors, integrating up to four degrees of freedom in a single device and allowing system designers to reduce the size of the electronic control unit (ECU) required in today's automotive safety systems.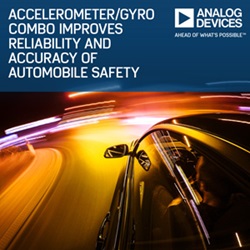 According to ADI, minimizing large error sources is mission critical to designing more reliable and accurate automotive safety systems such as robust electronic stability control (ESC) and rollover detection. Current ESC and rollover detection system designs often involve two or more discrete accelerometers and gyroscopes, which offer less shock and vibration immunity while costing more and requiring more board space.
ADI maintains that the ADXC150x combination sensor family overcomes the substantial challenges associated with integrating an automotive-grade gyroscope and accelerometer. These combination sensors integrate up to four degrees of freedom (DOF) into a single device—reducing component count and time-consuming custom integration while improving inertial sensing accuracy and reliability.
The company credits the ADXC150x gyroscope—with its differential quad-sensor design—with high immunity to the influences of linear acceleration, including external g-forces and vibration. The accelerometer features a low-Q sensor beam design with exceptional noise rejection performance and a wide dynamic range, enabling robust overload signal handling in challenging automotive environments.
The ADXC150x series debuts with two configurations initially available: the ADXC1500, which features a dual-axis accelerometer with yaw rate gyro; and the ADXC1501, featuring a three-axis accelerometer with yaw rate gyro. Both parts offer SPI digital output and are available in a 16-lead inverted-cavity SOIC package for robust EMI performance.
The ADXC1500 and ADXC1501 are scheduled to be available in February 2017.