Looking to expand the ability of non-car owners to use car-sharing as a means to travel, Hyundai Motor and WaiveCar are teaming up to offer a no-charge car-sharing program using Hyundai's IONIQ compact electronic vehicle.
The program allows drivers to use an IONIQ electric vehicle on-demand for two hours at no charge in exchange for a vehicle that is wrapped in advertising and includes a roof-mounted digital display, which generates advertising revenue to WaiveCar to offset costs. These digital displays are connected via 4G wireless to enable geo-targeted advertising depending on the driving location and time of day.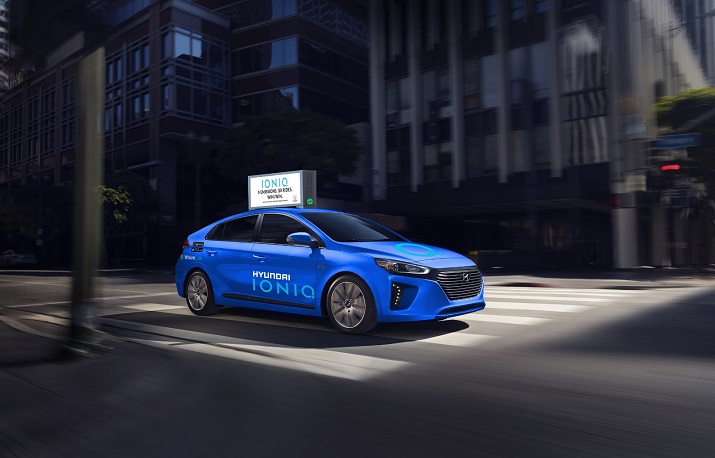 he Hyundai and WaiveCar car-sharing program will offer non-vehicle owners free use of an advertising-wrapped electric vehicle for two hours. Source: Hyundai The goal is to make it easy for those that do not own a vehicle to access short-term, no-cost transportation, Hyundai says. Using the WaiveCar app on an Android or iPhone, consumers can find an IONIQ EV near them, book it and start driving. The car is unlocked remotely with the keys inside. Insurance is also part of the platform.
After two hours, drivers can continue to use the vehicle for $5.99 an hour or return the car at another spot for another user to pick up.
WaiveCar and Hyundai will begin the program in early 2017 in Los Angeles, with 150 IONIQ electric cars being added in the city during the first half of the year. Three additional cities will be launched by the end of 2017 using 250 IONIQ cars.