The annual MEMS & Sensors Executive Congress wrapped up last week with a number of companies showcasing their latest works that utilize microelectromechanical systems (MEMS) to develop future applications from aerospace to automotive.
During the show future technologies were presented, such as perpetual energy sources for autonomous sensing devices, printed hybrid electronics, audio technologies and environmental technologies.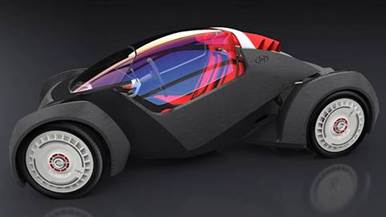 Local Motors' highway car is built using 3-D printing and IBM Watson cognitive computing to run autonomously. Source: Local Motors Among the highlights from the show is Local Motors' driverless electric car called the Strati. Local Motors says it used co-creation involving as many as 50,000 developers to create the car that uses 3-D printing to manufacture the vehicles, reducing the time to produce a car from years to months.
"Today's transportation system is characterized largely by privately owned, individually driven, gas-powered vehicles that sit unused 95% of the time, cost over $1 trillion annually and emit one gigaton of emissions each year," says Phillip M. Rayer II, general manager of Local Motors.
Local Motors is now working on the first 3-D-printed driverless car for highways.
Another highlight comes from XCOM Wireless and its partner Icarus Technologies Inc, which have created a concept aerospace device that helps to defend against drones. The device uses RF MEMS in a counter-drone that could be used to stop drones used unwittingly by dangerous hobbyists or military enemies using their own drones.
Finally, i-Blades was announced the winner of the 2016 Technology Showcase for its mobile Smartcase, a mobile phone case that forms a hard-wired smartphone connection that enables add-on MEMS and Internet of Things (IoT) technologies.