At this year's EICMA Milan Bicycle and Motorcycle Exhibition, Bosch will roll out its semi-active damping control unit (SDCU) that helps to reduce vibration, improve comfort and increase safety in two-wheeler and power sports vehicles.
The SDCU allows riders to choose and configure suspension settings to match their preferences with a push of a button. Upper-body control functions that allow for improved stability on uneven roads and a more comfortable ride, and ride-height controls on the handlebar or steering wheel, can all be adjusted electronically using the SDCU, Bosch says.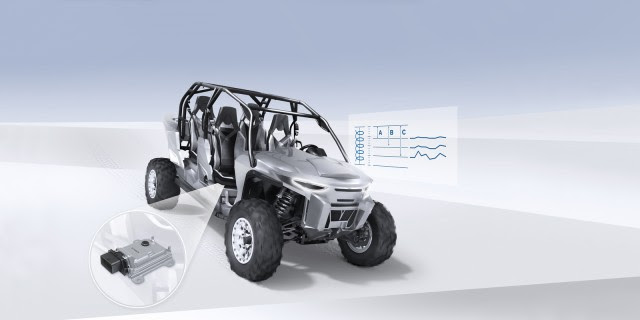 Bosch's semi-active damping control unit allows drivers of power sports vehicles to change suspension settings with the push of a button. Source: Bosch Other functions enabled by the SDCU include roll-over control through the use of sensors to measure suspension stroke and side slip, as well as dampers in order to avoid flip-overs. The SDCU also manages rear-wheel lift-off protection, and additional sensors are used to detect road surface conditions in order to increase stability and safety.
Bosch says the SDCU will be launched in power sports vehicles beginning in 2017. The 2016 EICMA show takes place this week in Milan, Italy.