Scientists at NASA have developed a prototype instrument that may help to search for signs of life on Mars and other targets in the solar system.
The Bio-Indicator Lidar Instrument (BILI) was developed using a sensing technique that the U.S. military uses to remotely monitor the air to detect life-threatening chemicals, toxins or other pathogens. NASA chose this technique to create the instrument prototype and adapted it to detect bio-signatures on other planets.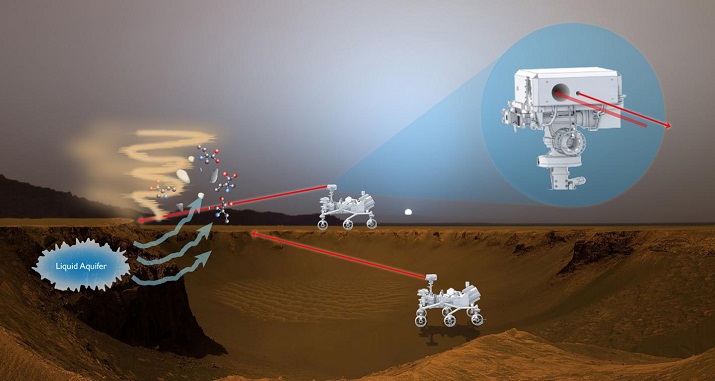 A rendering of how a proposed laser-fluorescent instrument could be used on Mars to identify life on the planet. Source: NASA The fluorescence-based lidar used in BILI has been used previously by NASA in climate research in the Earth's atmosphere, but NASA has not yet employed the technique in interplanetary studies.
"NASA has never used it before for planetary ground-level exploration. If the agency develops it, it will be the first of a kind," says Branimir Blagojevic, a NASA technologist at the Goddard Space Flight Center in Maryland.
NASA scientists equate the technique that would be equipped to ground-based rovers on Mars and other solar system targets to "a sense of smell" for the robotic devices. Placed on the mast of a rover, BILI would first scan the terrain to detect any dust plumes. Then it would command its two ultraviolet lasers to pulse light at the dust. The illumination causes the particles inside these dust clouds to resonate or fluoresce.
Scientists could then determine if the dust contains organic particles created recently or even in the past. The data would also detect the size of the particles. This detection is done in real-time and over a distance of what could be several hundred meters. This would be beneficial to rovers that cannot traverse a certain area, and it also reduces the risk of sample contamination by performing ground-level aerosol analysis from afar, NASA says.
Other ideas for BILI include attaching the instrument to an orbiting spacecraft, which could increase the probability of finding bio-signatures in the solar system.
"We are ready to integrate and test this novel instrument, which would be capable of detecting a number of organic bio-signatures," Blagojevic says. "Our goal is increasing the likelihood of their discovery."
The next steps for NASA include giving BILI a more rugged design to withstand the pressures of space and harsh environments, as well as reducing its size and confirming it can detect tiny concentrations of a broad range of organic molecules.