The newly launched project of Henrik Fisker is looking to take on the current leader in the electronic vehicle (EV) market, Tesla Motors, in a big way with its EMotion electric car that will have a range of 400 miles.
Fisker Inc. unveiled the first images of its premium sedan EV and a few details about the car ahead of its launch that is expected to take place sometime in mid-2017.
The EMotion will include a large, curved front windscreen pushed forward; an integrated rear spoiler; and a functional diffusor to aid in aerodynamics. The design will push the interior compartment forward and increase the wheelbase in order to increase the interior space of the luxury sport sedan.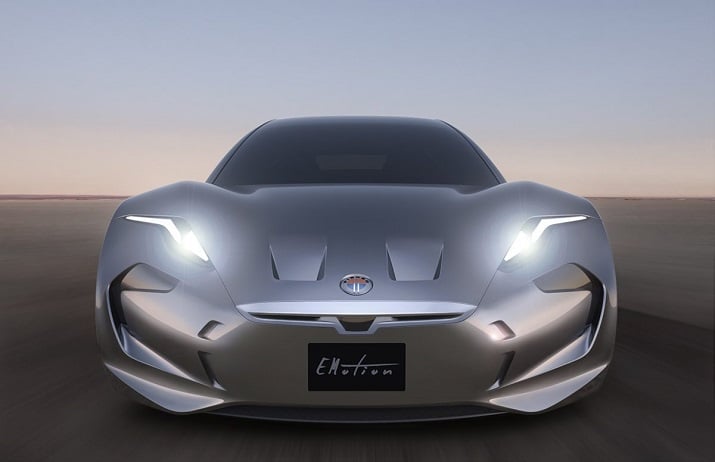 The first look at Fisker's EMotion electric vehicle that the company claims will have a range of 400 miles and a top speed of 161 mph. Source: Fisker Fisker says this additional space will allow for more rear legroom than many luxury sedans and will give the vehicle more space than its competitors' cars. The electric car will include a graphene-based hybrid supercapacitor battery technology that will be produced by Fisker Nanotech, a joint venture between Fisker and Nanotech Energy Inc.
According to market research firm Research and Markets, the graphene battery market is expected to reach $115 million by 2022, with the automotive industry estimated to dominate the market through this forecast period. Research and Markets says graphene battery benefits include quick-charging capacity, increased charge cycles and extended duration to hold a charge. They are also highly effective in high temperatures. While these benefits make them ideal for electric vehicles in the automotive industry, lack of awareness about the potential of the technology and the high cost of graphene electrode material will limit its growth compared to lithium-ion batteries.
Surpassing Rivals
Fisker's closest competitor, of course, is Tesla, which already has two luxury electric sedans on the market—the Model X and Model S. Tesla will release its third EV in late 2017 (Model 3), which is said to have a beginning price point of $35,000 and will carry a range of about 215 miles. If successful, Fisker's EMotion EV will surpass Tesla in this regard as well as its other closest rival in the Chevy Bolt EV, slated for production by the end of the year, with a mile range of 238.
Naturally production and introduction schedules vary wildly. Because Fisker has yet to release any vehicle at this point, it could take longer than anticipated to actually bring the car to market; and this does not discount for problems in funding, development or manufacturing. That said, if this start-up company can deliver, it may be a high bar for both rival start-up companies and entrenched automotive manufacturers to reach.
Fisker also noted that the EMotion will come equipped with hardware that will allow for fully autonomous driving when approved, something that Tesla recently announced for its own vehicles (Read: Tesla's New Cars to Include Full Self-Driving Technology). Fisker was short on details regarding this autonomous driving system, only saying it would unveil the details with a "soon-to-be-announced" partner supplier.
The EMotion will be manufactured by an existing Fisker facility in the U.S.