Here's your weekly news brief.
Battery-powered helicopter for organ delivery
Aircraft design and development company Tier 1 Engineering has flown a battery-powered manned helicopter flight to 400 feet and with a peak speed of 80 knots. The helicopter—a modified Robinson R44 with a basic empty weight of 1,250 lbs. and a gross weight of 2,500 lbs.—completed the flight at the Los Alamitos Army Airfield under a special airworthiness certificate in the experimental category issued by the Federal Aviation Administration.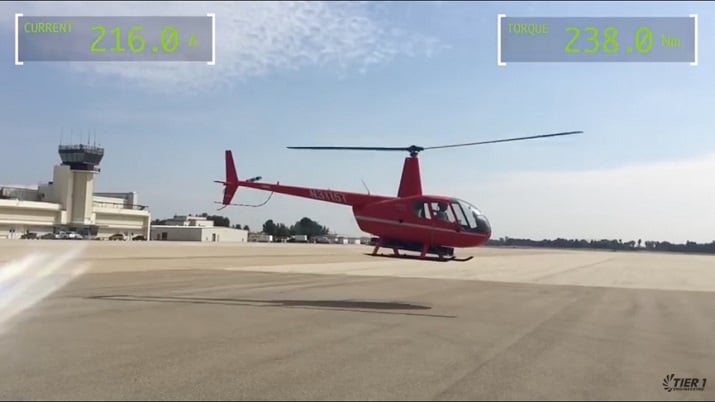 The test was carried out under a contract to produce an electrically powered semi-autonomous rotorcraft to deliver human organs. The development team designed and integrated all of the helicopter subsystems, which included 1,100 pounds of Brammo lithium polymer batteries, twin electric motors and a control system from Rinehart Motion Systems. The five-minute flight drained approximately 20% of the battery energy, the company says.
Robots in the operating room
A Texas hospital recently opened a surgical hospital that will offer a number of robotics-assisted surgical procedures. The use of robotic arms will enable surgeons to perform procedures considered routine enough to trust to machinery. Allen Harrison, CEO of St. David's North Austin Medical Center, told the Austin American-Statesman newspaper that procedures involving little more than making an incision and conducting simple movements can be done using the robotic arm. When operated by a surgeon, the robotics tend to cause less blood loss, less pain, and leave a patient less reliant on post-op narcotics.
VR on the construction site
Researchers in Germany aim to reduce the number of construction injuries by making work sites safer with interactive virtual reality training. A team from Ruhr University's Institute for Computation in Engineering is developing the technology to help occupational health and safety experts check critical areas of construction sites in advance and plan safety measures. Construction workers could also be trained in virtual reality. The engineers are making the most of the fact that every large construction site today is planned virtually before it is actually built. Workers then use the three-dimensional models as the basis for a site's representation in virtual reality, enhancing them using much of the same technology found in computer games. With the aid of VR glasses, users can explore a construction site. They interact with the environment using hand-held controllers.
You'll find more technology news, along with product guides and reference materials on the Engineering360 and Electronics360 web sites.