A four-seat, hybrid fuel cell aircraft developed by the DLR Institute for Thermodynamics, Hydrogenics, Pipistrel, H2Fly and the University of Ulm in Germany successfully took its maiden test flight from the Stuttgart Airport.
The 10-minute test flight involved two pilots and two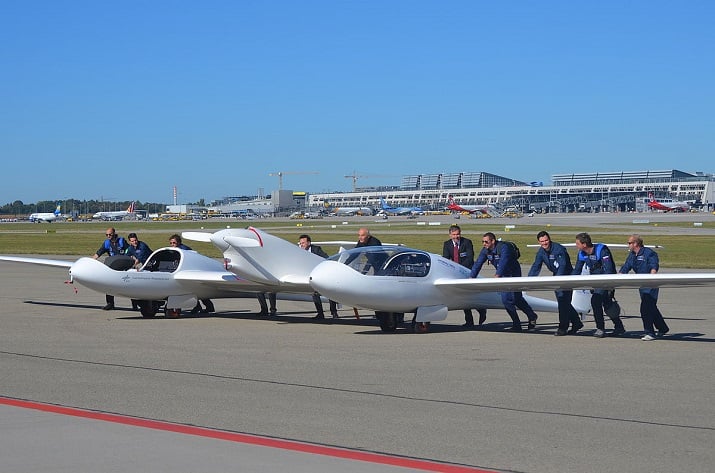 The HY4 hybrid fuel cell aircraft has an output of 80 kW, reached a top speed of 200 kilometers, and potentially could travel 1,500 kilometers. Source: University of Ulm dummy passengers in order to test the viability of an environmentally friendly aircraft running on a hydrogen fuel-cell battery system. The fuel cell system converts hydrogen into electricity in order to power the propeller. The result is an aircraft that not only produces zero emissions, but also runs silently to prevent noise pollution as well, researchers say.
Dubbed the HY4, the aircraft is seen as an important step toward building a fleet of sustainable aircraft that emit zero emissions, but can still perform the duties consumers look for in airplanes.
According to the DLR Institute, the HY4 has an output of 80 kW and a top speed of about 200 kilometers per hour. Depending on speed, altitude and load, the aircraft can range from 750 to 1,500 kilometers, making it possible to create a future line of passenger aircraft that could serve as electric air taxis in the future, the DLR says.
"With the HY4 we now have an ideal platform to further develop the use of fuel cells in the airplane," says Professor Josef Kallo, head of the project HY4 at DLR and professor at the University of Ulm. "Small passenger aircraft, such as the HY4, could soon be used in regional transport as electric air taxis, and offer a flexible and rapid alternative to existing means of transport."
Researchers say one of the major challenges in aircraft over the next few decades is to bring electric mobility in the air and make air transport of the future CO2 neutral. "Our goal is to further improve the fuel-cell powertrain and [create] regional aircraft with up to 19 passengers," says Professor André Thess, director of the DLR Institute of Technical Thermodynamics.