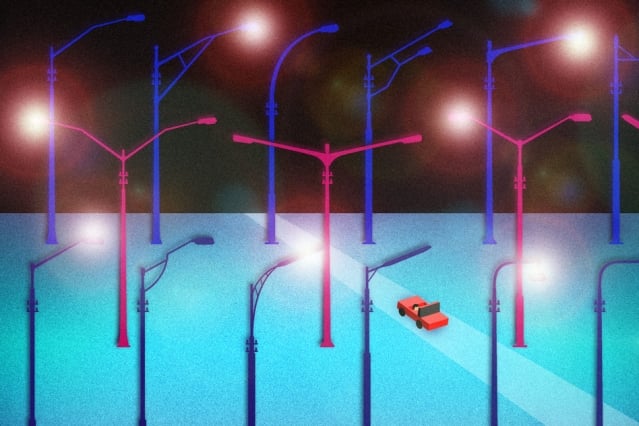 MIT system would replace manual inspections with a set of cameras and sensors mounted atop city vehicles. Image: Jose-Luis Olivares/MITWhen a streetlight or highway lamp goes out in your area, chances are it will stay out until the right city or county department is notified. In fact, most cities would be hard pressed to say exactly where all their streetlights are located, when they were installed, how tall they are or when they were last serviced.
Now a team of MIT engineers has come up with a type of drive-by monitoring, a streetlight mapping and inspection system that uses vehicle-mounted cameras and sensors in much the same way Google uses vehicle-mounted cameras to generate its street views.
"The way we measure street lighting is still very primitive," said MIT researcher Sumeet Kumar, whose team began exploring solutions after being contacted by Ferrovial SA, a major Madrid-based infrastructure contractor. Ferrovial SA was looking for a more efficient way to manage street lighting systems other than driving around randomly, trying to spot outages.
The MIT team came up with the idea of replacing manual inspections with a set of cameras and sensors mounted atop a vehicle, which would cruise the city's streets at night, picking up the location of streetlights using digital cameras and sophisticated software to distinguish between streetlights and other sources of illumination, and even estimate the height of each lamp. Sensors measured the exact level of illumination, in order to determine if lights were failing, or if there were dark areas between lights, indicating a possible lamp outage or a need for an additional light pole.
Tying this all together is a system for precisely determining the location of the vehicle as it moves along, thus creating an accurate map and database of positions. This system uses a combination of GPS data and other methods to improve accuracy, and could either record all the data for later downloading or send it in real-time to a central facility, researchers said.
If using a dedicated fleet of vehicles for the task would be too expensive for some municipalities, researchers suggested that portable tracking equipment could be mounted atop existing public vehicles such as police cars or buses.
To demonstrate the concept, researchers carried out field tests in four cities—Cambridge, Massachusetts; Malaga and Santander in Spain; and Birmingham, UK, using portable equipment mounted on the roofs of rental cars or vans.
While the experiments were specifically aimed at studying streetlights, Kumar said that much of the basic work on the system, including the precision mapping system, algorithms for interpreting the information captured from the cameras, and ways of capturing and storing data, could also be applied to tracking a variety of other urban infrastructure issues, such as locating potholes or mapping the location and condition of traffic signs and signals.