Microchip Technology Inc. has released a new series of microelectromechanical systems (MEMS) oscillators targeted for use as clock references in small, battery-powered devices such as wearables and Internet of Things (IoT) devices.
The DSC6000 MEMS family has low-power consumption, long-term reliability and features a frequency range of 2 KHz to 100 MHz. The small devices also meet the mechanical durability and reliability requirements for the Automotive Electronics Council standard Q100 for under-the-hood applications.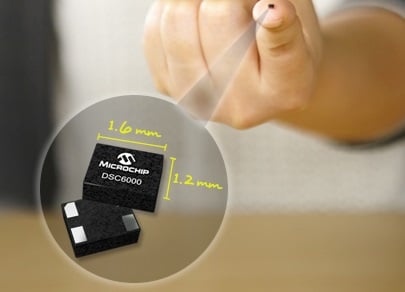 Microchip's DSC6000 MEMS oscillators come as small as 1.6 x 1.2 mm and can withstand 500 times more shock than quartz-based competitors. Source: Microchip The oscillators come in a standard four-pin DFN package ranging from as small as 1.6 x 1.2 mm up to 7 x 5 mm and consume just 1.3 microamps. Microchip says this is half the current consumption of quartz-based oscillators that these MEMS would be replacing. The company also claims the devices can withstand 500 times more shock and five times more vibration than quartz oscillators.
Microchip says as products become smaller and lighter, the design device footprints, low-power consumption and precision timing aspects are also becoming smaller. MEMS oscillators in this regard have benefits over traditional quartz-based oscillators because of the high performance with low power, the company says.
To contact the author of this article, email engineering360editors@ihs.com